I picked up a golf club for the first time at two years old and learned to play by tagging along with my dad and older siblings on trips to Pico Rivera GC. Between the range and the course, my game really grew up there alongside me.
In high school, I finally started taking golf seriously after I missed the cut to play in CIF as an individual. The following year I became the first golfer in my school's history to win our league title.
I earned a scholarship through the SCGA Junior Golf Foundation, which helped me play collegiately at Cal State Dominguez Hills. While there, we won the PGA Works Collegiate Championship.
Last month, I played in Mackenzie Tour-PGA Tour Canada Q-School.
My name is Andrew Banuelos and I've been a coach in the Player & Youth Development Program for six years. I'm telling you all this to show you how much a Mexican kid from Pico Rivera can achieve in the game of golf.
I know golf isn't the most diverse sport, but it should be. It's important for kids from all backgrounds to have opportunities to play golf because it's a game that brings people together and teaches important life lessons. After more than a year away, I'm so excited that we are getting back to the course.
Programming is finally back, and there are so many kids that I coach who I'm excited to see. I'm excited to hear what they've been up to, how they are doing and what they have coming up. I'm just excited.
Part of what I love so much about being a coach is getting to take my knowledge of the game, my experiences, and my mistakes, and using them to teach our junior golfers. I can make a huge impact on them and prepare them for the next level. I can show them how to have confidence in themselves and belief that they can play at any level if they work hard to achieve their goals.
These kids are just like I used to be. So I'm here to help them become the best golfers, and people that they can be.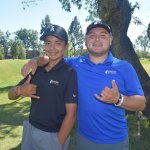 Andrew Banuelos
PYD Coach and Scholar Alumni