Stepping up to the first tee, he was nervous. This was the first competitive golf tournament Andrew Banuelos had played in two years, since his college days at Cal State Dominguez Hills. And this was a big one.
This was Mackenzie Tour-PGA Tour Canada Q-School.
"The first couple holes I was pretty nervous," Banuelos said. "I had played the course a few times and I felt like I knew it well, so it was just a matter of executing and being confident."
After the first three holes, Banuelos was +7. Instead of looking at the hole he was in or getting down on himself, Banuelos told himself the same things that he tells the junior golfers he coaches in the Player & Youth Development (PYD) program.
"I knew I could hang with these guys, it's just about playing how I know how to play," Banuelos said. "I needed to control my mindset and I was doing a lot of positive self-talk out there. I was there for a reason, because I know how to play."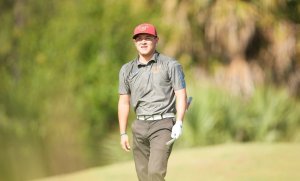 His confidence never wavered and though Banuelos didn't qualify for the pro circuit, he still plans to pursue the game professionally through Golden State Tour events and Korn Ferry Q-School in the coming months. In the meantime, Banuelos keeps himself busy as a PYD coach in his hometown of Pico Rivera, at the same local course that he grew up playing.
"I love being a coach," Banuelos said. "I love giving back to my community, being a role model and helping make the game fun for the kids. I can use my experiences and mistakes to help them achieve their goals."
Primarily self-taught, Banuelos didn't take golf seriously until his junior year of high school, when he narrowly missed the cut to compete in CIF as an individual. Vowing that he would play in CIF his senior year, he went on to win the league as an individual, becoming the first player in El Rancho High School history to do so.
Banuelos earned a scholarship through the Foundation and played golf at Cal State Dominguez Hills, where he helped the men's team win the PGA WORKS Collegiate Championship, an event specifically for minority-serving educational institutions.
The junior golfers that Banuelos coaches have noticed his success and their similar backgrounds. Nataliya Laciste has been a program participant for several years and views Banuelos as an inspiration.
"I think of Coach Andrew as my role model because he plays a lot of golf tournaments and he played for a really good college," Laciste said. "I want to be just like him someday, being in a really good college and playing in a lot of golf tournaments."
Banuelos has been a coach for six years, and worked throughout college. Forty percent of the PYD program is Latino, and having diverse coaches such as Banuelos is critical to show kids that they can achieve whatever they want in the sport of golf, and in life.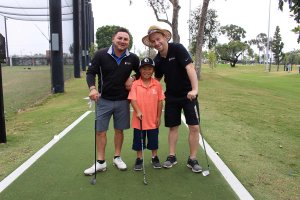 "Pico Rivera is a Hispanic community," Banuelos said. "I want to show them that it's cool to be Mexican and play golf. It's pretty cool that I grew up in Pico Rivera and now I just played in Q-School."
An NPR report shows a recent study in which students who had teachers as the same race of them in school felt more cared for, more interested in their work and more confident in their teachers. The SCGA Junior Golf Foundation's research with the Claremont Graduate University takes the same principle to the course and shows that coaches in the PYD program are viewed as positive role models, are fair and fun natured.
Knowing that he's a role model for juniors like Nataliya and is helping to make a difference in their lives brings a big smile to Banuelos' face.
"With my knowledge and having played golf for so long, I can make a huge impact on these kids and prepare them for the next level," Banuelos said. "I'm here to help them have confidence in themselves and believe that they can play at any level, so they can work hard to achieve their goals."
Banuelos said he especially loves helping juniors deal with their emotions on the course, overcoming adversity and bad shots or tough rounds. It's the same advice that he gives himself in the middle of a tough round: You're here for a reason, because you know how to play.