Isabella loves to play golf and especially enjoys the girls-only class and Girls Golf of Southeast LA outings. Her coaches describe her as a sponge for one-on-one instruction and that she loves to learn more about the game. She always comes to the course with a smile and ready to have fun and loves to play with her friends and with any new girls that come to class as well.
When did you start playing golf?
I have been with SCGA Junior for five years and counting. I love every minute of it!
What is your favorite part about golf?
My favorite part of playing golf is when I play with my SCGA Junior friends and with my Papi. The reason why is because playing golf and stepping on the course just turns a light switch of happiness in my body.
What do you like about SCGA Junior events?
I enjoy going to SCGA Junior classes because every time I go I feel that I improve more because they have the best coaches.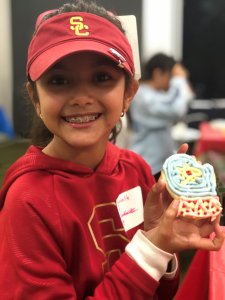 What is your favorite SCGA Junior memory?
My best memory is when we had "Girls Golf Christmas" we had cookies and hot cocoa. I also met a girl that plays golf at USC, which was really cool. Note: Isabella met scholar and USC golfer Alyaa Abdulghany at Girls Golf College Night.
Favorites:
Golfer: Tiger Woods, Michelle Wie, Rickie Fowler and my Papi
Movie: Princess Diaries Part I & II and Nacho Libre
Favorite sports team: I love the Dodgers and USC.
Other hobbies: Playing the piano, playing football in the backyard and going to church