Ever wondered what it's like to go through the recruiting process for golf? What kind of food is served in college dining halls? How to find a school that you love? LPGA-USGA Girls Golf of Southeast LA hosted College Night to help participants find the answers to those questions from their mentors that have done it themselves.
Several SCGA Junior scholars attended the event to serve as panelists in roundtable discussions aimed at helping girls find role models and mentors while also helping them learn more about getting to college and what college life is like.
"I learned about managing money and how to not spend it all on food," London Clark, a sophomore in high school said with a laugh. "We really talked about how to make good decisions."
Topics included playing collegiate golf, the transition from high school to college, social life and daily life. The sessions were led by young women who come from a variety of universities, some of whom play collegiate golf and all whom are pursuing a range of degrees.
Mentors included Elizabeth Wang, Jennifer Queller and Stephanie Gonzalez whom play golf at Harvard, University of Illinois at Springfield and Texas A&M International, respectively.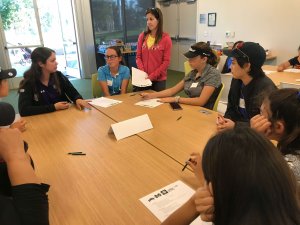 Participants ranged in age from elementary school all the way to high school.
Fourth grader Ezabella Pasillas was one of the younger girls in attendance, but that didn't stop her from enjoying the night.
"Some of the older girls told me to think about college as soon as I get to high school or even before," she said. "You want to start preparing so it isn't too late."
Through this Girls Golf chapter, SCGA Junior is committed to helping girls find role models on the course and develop lifelong friendships through the game while providing opportunities that may be otherwise unavailable.
If you would like to learn more about Girls Golf of Southeast LA, you can find them on Instagram at @girlsgolfofsoutheastla.