Who says the girls can't beat the boys? This year's PGA Jr. League All-Star team had something to say about that. SCGA Junior participated in two leagues, and after winning both league titles, was able to contribute the most all-stars in their respective leagues.
For one of the teams, SCGA Junior selected an all-girl faction to represent them at the next level.
Zoe Campos, Oliviah Chavez, Khivi Kaur, Nataliya Laciste and Chloe Viray not only made their mark as all-stars, but also dominated the regional qualifier and advanced to the section championship.
"I feel honored to be a part of the SCGA Junior all-star team because we played against a lot of boys today and it's cool to know that our whole team was girls and that girls can make up high-level teams because even if we don't hit it as far as boys, we can still beat them and be just as good or better," said Khivi who is in eighth grade.
It's powerful for these girls to play together and PGA Jr. League provides the perfect opportunity for their camaraderie to grow. The team isn't competing as individuals, it's truly a team effort as they work to win each week.
"My favorite thing about PGA Jr. League is that it's a team game," said Chloe. "You have to cooperate with your teammates and the reason that cooperation is a key part is that when I missed an eagle putt, I helped my teammate read their putt and I was still able to help get us an eagle."
Chloe and her all-star partner went on to score two eagles and two birdies in the 9-hole contest.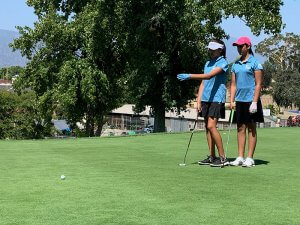 The SCGA Junior all-star girls comprised the pairings that earned the top-three scores in the qualifier, which were the three that the team used to advance.
These girls are learning at a young age what it means to be a female playing sports, and through this experience they are learning valuable lessons on and beyond the course.
"To be a part of an all-girls team is pretty inspiring," Oliviah said. "Sometimes, when we play against a team of all boys, they start out trying to intimidate us, but once we start playing and they see that we are just as good, they start to respect us more."
For Player & Youth Development Director and team captain Kaycee Wilke, these comments from such young girls show first-hand the impact that golf is making on their lives. Golf is giving them a parallel experience to real life, and they are learning how to handle themselves and not only get through these experiences, but also thrive in them.
"It's so important for these girls to be surrounded by people that look like them and respect them on the golf course," Wilke said. "When I think about some of the observations that these girls have made about playing on an all-girls team and how special it is, it just gives me chills."
Even though these girls are making an impression on those around them, PGA Jr. League always comes back to one thing for them: having fun with their friends. Every girl on the team talked about how their favorite part of playing on the team was getting to play with their friends, make new friends and play new golf courses. They even enjoy their weekly practices at the LA County facilities, Don Knabe GC and Los Amigos GC, because they get to play alongside their other SCGA Junior friends who were on different teams.
Ashley Cheng, Alejandro and Carolina Pedroza and Dallas Vega were selected to the North LA all-star team. Andrew Rodriguez and Jojo Gutierrez were also all-stars on the Rio Hondo team.
The Beach Cities team will be playing in the Section Championship on Aug. 24-25 at Industry Hills GC.