As the 2023 U.S. Open Community Engagement Intern, I knew that the 123 U.S. Open Championship at the Los Angeles Country Club would be a life-changing experience. I was excited, but also nervous.
I received my shift assignments, and began researching; caddie services, player tracking, to what it might entail for a U.S. Open Championship, as I only knew what the 'Marshal' role was. My first shift was on Sunday, June 11th and I was scheduled to support caddie registration.
But as I walked towards The Los Angeles Country Club entrance, my nerves disappeared, only to be replaced with pride and enthusiasm for this great opportunity, thanks to the SCGA Junior Golf Foundation. I went straight to the Merch tent to get my Volunteer apparel and I was amazed by the massive merchandise tent filled with product from 70+ companies. After scoping out locations for some of my favorite brands, I was able to find my way through the course to find where the range, player services, caddie services, fitness center and other services were set up for the tournament.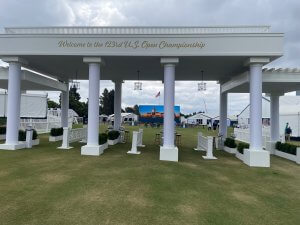 For my first shift, I was tasked to help with caddie services. We helped fill up a nice, branded bag with some goodies like water bottles, cigar holders, USGA branded towels, U.S. Open magazine and other additional giveaways. All of this was done inside a hospitality tent designated for caddies, coaches, agents or any other additional staff from the players. The tent had a great setup with food, drinks, a barber, ping pong table, and TV's showing the RBC Canadian Open Championship.
I also had the opportunity to go get some credentials from the player reception area and it was great to see all the setup they had. Later in the day, I received a credential for the player reception area and ventured over to that private area. Each player was gifted an upgraded bag with all kinds of giveaways, including a selection of wines for the players to choose from. The reception area was incredible. In addition to a ping pong table and mini basketball hoop, there was an on-site magician and station where players could sign posters and other SoCal memorabilia such as a surfboard. My favorite component was a wall that highlighted the number of U.S. Open Championships attended by each player who was part of this year's tournament- of course Phil Mickelson's 32 appearances were at the top.
On Monday I began my first of three shifts as a marshal on Hole No. 5. The journey to arrive at Hole #5 was an adventure in itself! First, I took a shuttle from a nearby UCLA parking lot and then began to hike as Hole #5 was the farthest from the entrance. Once I arrived at the tee box, I connected with my SCGA colleagues and our hole captain who explained the different stations throughout the hole and the timing of our rotation schedule.
As marshals, our team was responsible for tracking and marking balls all while ensuring spectators were behind the ropes at the appropriate times. The most important role on that hole was holding the paddles behind the tee box. With the hole playing at nearly 500 yards, I got to witness a lot 300+ yard drives up close, while those with the paddles would watch players tee off and indicated where the ball was headed so other marshals up the hill could mark where it landed if it went into the rough.
Many players struggled on this hole during the practice rounds. In fact, one funny story that circulated through the tournament took place when Ben Hogan was teeing off. His caddie pointed towards four palm trees towards the end of the hole and said to hit to towards them. Hogan's response? "Which one?" Fans loved that story, and I must have heard versions of that story at least twenty times throughout my Marshal shifts.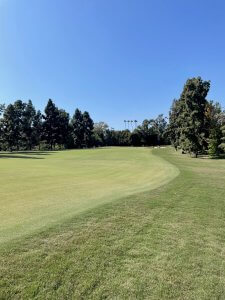 My three shifts on Hole No. 5 were all unique, with Wednesday having the least number of players on the course as I assume they were taking it easy before the start of the tournament. It was amazing to be so close to some of the best golfers in the world. Some of the most memorable shots I watched were Brooks Koepka and Dustin Johnson teeing off from Hole No. 8, Matt Fitzpatrick (2022 US Open Champion) hitting it into the rough (I marked his ball) and Rory playing with his gallery of 20+ behind him.  
Another awesome component of being on the course was talking to fans and other volunteers, who were quick to tell me so many fun facts about LACC, from the rumor of Lionel Richie's enormous house next to the green on Hole No. 4 to the sounds of peacocks and monkeys from the Playboy Mansion behind Hole No. 13. There were also a lot of people talking about the thick rough and LACC's controversial course set-up for this championship. Many spectators thought the course looked easy; others predicted it would be very tricky as the tournament progressed.  
Everyone had their own take on which clubs to hit on each hole and seemed very confident in their abilities. Overall, most folks were especially impressed with how a course as lush as LACC could be in between a city like Los Angeles. Being from Mexico City, I am used to having a couple of golf courses in more urban areas, so I haven't really thought about it much, but people came from all over the world to watch this tournament and many had never seen such a beautiful juxtaposition!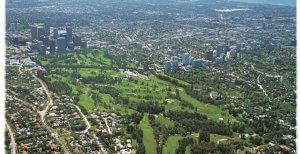 Throughout the entire week, the SCGA Junior Golf Foundation made a concerted effort to be active in and around Los Angeles to share information about its important work and the FORE YOUTH 2023 U.S. Open Community Legacy Campaign. With that in mind, I spent Friday morning at U.S. Open Showcase, an interactive fan experience hosted at the Century City Mall. This was a fantastic space with different amenities such as a pop-up merch tent, a golf simulator, celebrity appearances, live music, the EA Sports PGA tour experience, and a screen to watch the tournament live. Fans could even take photos with the trophy! 
The morning was a bit slow as most people were more interested in finding their way to the golf course but in the afternoon, we chatted with tons of folks at the SCGA's booth. We shared the benefits of an SCGA Membership and how parents could sign their junior to our golf programming offerings for our Summer Session which begins on July 9th.  We also had a fun interaction by being interviewed by some FOX Sports interns!  
My final shift was on Championship Sunday, I was thrilled to be a part of this important day. Although I was originally slated for player tracking, I ended up in the grandstands between the 9th and 18th holes to assist with crowd control. Fans began reserving seats at 2pm although the tournament didn't wrap up until about 7pm. It was really special to hear the cheers for each player on the 18th, despite where they landed in the standings. All of the pros were very grateful for the love, despite not getting the results they expected. Watching such a big tournament coming down the home stretch was an amazing experience. The energy from the fans was palpable, especially to see how the tournament was closing and people were so excited rooting for Rory and Wyndham to have an exciting end to the round.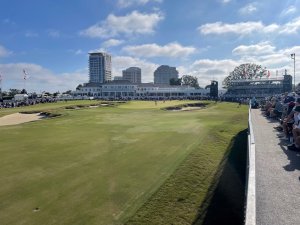 Overall, I had a great experience throughout the 123rd U.S. Open week, something I probably only dreamt of before being part of the SCGA Junior Golf Foundation team. To be able to work as an important event as it is a Super Bowl, a World Series, or any other major sport event was a once–in–a–lifetime experience. Volunteering and talking with people from all different backgrounds who have a common interest in golf was such an interesting and learning experience. I recommend getting involved in an event of this magnitude as it is something you will never forget!   
This story has been translated to Spanish and can be accessed here.
View photos from U.S. Open week here.