Our members always shoot for the stars, but at the HUGEL-Air Premia LA Open, they got the chance to get up close and personal with some of the LPGA's brightest. Through a variety of programming opportunities, many SCGA Junior and Girls Golf of Southeast LA members were given unique experiences throughout the tournament at Wilshire CC.
Scholar Sal Hinojosa got things started during Wednesday's pro-am by participating as a caddie. Hinojosa caddied with Major Champion Pernilla Lindberg's group.
On Thursday, Girls Golf of Southeast LA members Vanessa Ngo and Madison Stout spent the day walking inside the ropes alongside Sandra Gal. She was playing with Anne Van Dam and Jennifer Song.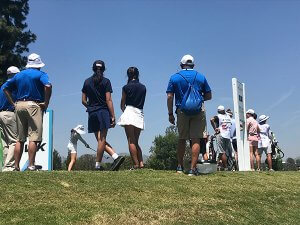 "Everything Sandra said was kind, but I was surprised by the fact that she talked to us even after she started her round," Vanessa said. "She took time out of her round to talk to us, even when she was focused on playing. I was very appreciative that she cared about us being there to watch her and the rest of the group."
The girls were able to speak with the players, take pictures and seek autographs while getting an inside look at what playing in a professional tournament is like.
"The way Sandra conducted herself during the tournament stood out to me the most," Vanessa said. "Throughout the entire round, she had a smile on her face. She came up to talk to us whether she bogeyed or birdied. She seemed to be enjoying herself the whole time and that is something that I try hard to do and admire about her."
On Saturday, SCGA Junior hosted an outing to the tournament for participants in the Player & Youth Development program. The day included an afternoon clinic, meeting the professionals and, of course, watching a lot of golf.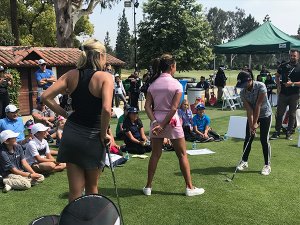 The juniors participated in an afternoon clinic hosted by golf personalities Nikki Bondura and Tisha Alyn. They focused on teaching the group about the fundamentals, starting with GSAP: grip, stance, alignment and posture, while also tossing in some fun trick shots.
"Keep a positive attitude and keep working hard on and off the course," Alyn said. "And get rid of superstitions. They are not your friend."
Participants in the clinic were surprised by a visit from Angel Yin, who hit balls and met with the group.
The juniors also had the opportunity to meet Lydia Ko, Brooke Henderson and Lizette Salas throughout the day.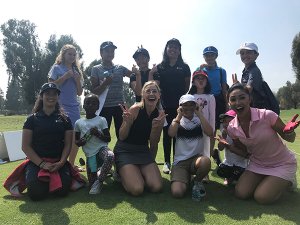 "It's such a great opportunity to bring some of our kids out and expose them to a world that they may never have seen before," said Coach Teresa Thornton. "For some of these kids, seeing a professional golf tournament is going to change their perspective on the game or on life. Many of them have never seen a country club before."