The first event of the year in SCGA Junior's Advanced Player Program Tournament Series was filled with exciting shots, thrilling putts and even a cardoff before the champs were announced in each flight. The tournament series provides an opportunity for competitive juniors in the Player & Youth Development program to have an affordable introduction to tournament golf. The tournament saw fierce competition from boys and girls ages 8-18 over the course of 18 holes at Brookside GC.
The winners were:
Michelle Cheng (Girls 15-18)
Jesse Palazuelos (Boys 15-18)
Ayuka Yang (Girls 12-14)
Ethan Kwan (Boys 12-14)
Kaelyn Yang (Girls 8-11)
Levi Reilly (Boys 8-11)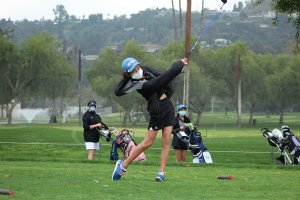 The two most dominant performances of the day came from the Yang sisters, who each won their flights in commanding fashion. Kaelyn shot 4-over to win her flight by 10 strokes, and Ayuka won her flight by eight strokes, carding a score of 8-over for the day. For both girls, the highlight of their respective rounds came on birdie holes.
"The highlight for me was my two birdies," Kaelyn said. "My chipping and putting were just working really well today."
Ayuka noted that she was able to use the tournament round as an opportunity to practice some of the things she's been working on with her game.
"I improved a lot from the last time I played in this tournament," she said. "I've been working on a few things with my swing and that went really well."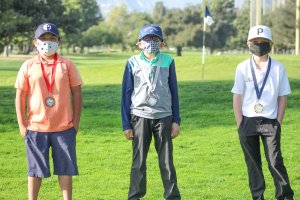 On the opposite end of the spectrum, the Boys 12-14 flight came down to a second tiebreaker to decide the winner. Ethan Kwan and Andrew Rodriguez both finished at +4. After tying on the initial cardoff, which compares the back nine, the champ was decided based on each player's score during the final six holes. Kwan had a colorful round, including seven birdies that eventually carried him to victory.
"I don't know how I had that many birdies," he said. "My putting was really good today and everything was just working out."
Both the Boys and Girls 15-18 flights were also tightly contested. On the girls' side, Michelle Cheng used a big birdie on the 15th hole to carry her to a one stroke win.
"That was definitely my best hole of the day," she said. "There was a whole adrenaline rush that went through my body. On the chip, I didn't even expect it to go in, but it kept rolling and it went in the hole."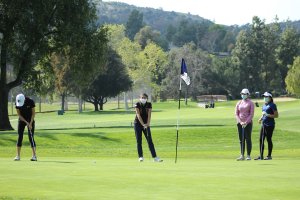 For the boys, Jesse Palazuelos took home a two-shot victory in a round that included a healthy dose of fun.
"It feels a lot better to win, but it was still super fun," he said. "I was playing with my friends and we were talking about all sorts of stuff, but when it comes to golf, we were serious and regained our composure. But after that it was all fun."
There was a strong sense of fun throughout the day, with groups filled with friends that haven't seen each other or played a round together in some time. The tournament series continues throughout 2021, with the next event to be played on June 5.
You can view and download photos from the day here and view full results here.