The summer before freshman year of high school is usually filled with excitement about the future, anxiety about the next step and cramming in as much fun as possible. For Leigh Chien, this summer was filled with all of those things – but it was also filled with professional golf. Oh, and trophies. Lots of trophies.
The Golf Pass member has had a remarkable summer, which was jumpstarted by a cross-country drive to Arkansas to defend her title in the KPMG Stacy Lewis Junior All-Star Invitational. She took home the crown for the second straight year and with it earned her second consecutive exemption into a Symetra Tour event. Last year it was the Firekeepers Casino Hotel Championship and this year she competed in the Founders Tribute at Longbow.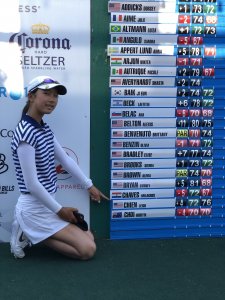 "The Stacy Lewis [Invitational] was my favorite event because the course is always so nice, in such great condition and it's hosted by Stacy Lewis who I really look up to," Leigh said. "This golf course just really fits my game. It requires really straight shots off the tee because of the narrow fairways and one of my strengths is approach shots and that's good with such tough greens."
After deciding that a 22-hour drive (one-way) wasn't how the family was going to spend their entire summer, Leigh's father, Wayne said that they really started to focus in on local tournaments that were within a more reasonable driving distance.
Leigh has had incredible success, finishing in the top-10 of every amateur event she's played this summer. She finished second in the Insperity Invitational/Patrick Reed AJGA Junior Championship, ninth in the California Women's Amateur (after finishing stroke play as a co-medalist), 10th in the Under Armour/Alison Lee Championship and capped it all by bringing home the title in the California Women's Championship.
Arguably the most impressive of her summer accomplishments was holding her own in the Founders Tribute.
"I really didn't feel like the pressure was that high," Leigh said. "I wanted to make the cut since it was my second year [competing in a Symetra Tour event], so it was disappointing that I didn't, but one of the biggest challenges was how long the pros hit it. As I grow older though, I know I'll be able to hit it farther."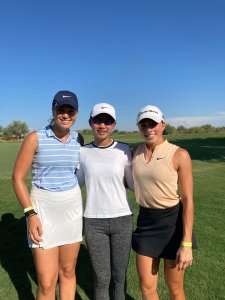 Again, remember that Leigh hadn't even started high school when playing in this tournament.
"It was completely different compared to junior golf; these are full grown women who are hitting it 300 yards and 350 in the heat," Wayne said. "Leigh was playing with real women athletes who play very athletically, the way they swing, their physique. It's not like junior golf where everyone looks like a teenager."
Despite missing the cut, Leigh has kept her head held high. She hasn't missed a beat practicing; in fact, she even called into this interview from the course. She's not slowing down her lofty goals for her game either. In her next tournament she's hoping to finish in the top-three (but ideally take home the win). She also hopes to qualify for a U.S. Women's Amateur or U.S. Girls Junior Championship and play in her first USGA event. She qualified for the Four-ball this year, but it was cancelled.
And like any teenager, she's nervous about what high school has in store for her. As a freshman at University High School, she's anxiously awaiting updates to the golf season and plans to play for her team once they are able and use it as an opportunity to have fun on the course and practice.
Of course, she'll be keeping her Golf Pass handy.
"It opens a lot of opportunities for me and for juniors in general," Leigh said. "It helps me improve at golf and grow the game for others."
Wayne echoed his daughter's sentiments of the importance of the affordable access that SCGA Junior Golf Foundation provides.
"We're really appreciative of the Golf Pass and we utilize that around our neighborhood," he said. "There's something for every level of player. We support it 100%."