For the second year in a row, Golf Pass member Leigh Chien has qualified for a Symetra Tour event after winning the KPMG Stacy Lewis Junior All-Star Invitational. Last year, Chien qualified for the FireKeepers Casino Hotel Championship; this year she's headed to the Founders Tribute at Longbow GC from Aug. 14-16.
"I feel honored and lucky to have the opportunity," Chien said of her second professional start. "It's such an honor as a junior golfer to be able to take part in professional events."
Though she may be less experienced than some of the other golfers in the field, Chien is feeling confident going into the tournament. Longbow is a course that Chien has played several times and has quite the successful record.
In 2018 and 2019 she competed in the Joanne Winter Arizona Silverbelle Championship at Longbow. In 2019 she won her age division (13-14) and finished T6 overall competing against junior golfers of national renown including local standouts Zoe Campos and Amari Avery.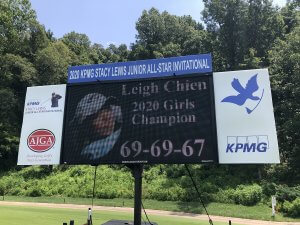 Chien isn't planning on changing her preparation for this event, and why should she? She's coming off a victory at the California Women's Championship.
"My preparation for this event won't be any different from any normal tournament," Chien said. "I feel that when it comes to any sort of tournament, I like to keep my warm-up and practice routine consistent."
But of course, for any junior golfer, even one who has already had so much success, there's still a thrill in getting to playing alongside the pros.
"I'm just a few feet away from the professional women on the tee box and on the greens. I can feel the power and speed of their swings, sense their concentration and focus and listen to their thought process with their caddies," Chien said. "It's the greatest golf lesson that one can receive."
Always a student of the game, Chien is hoping to pick up advice beyond just their golf game to help her as she sets her sights on a future of professional golf.
"I feel that I will learn a lot from their game and also learn about their journey transitioning into a professional player," Chien said. "I'm also just super excited to be in that professional setting and have a sneak peak of what I'd be playing in, in the future, hopefully."