After sinking the last putt on 18, Alexa Melton breathed a sigh of relief after her record-setting performance to capture the SCGA Women's Amateur at Valencia CC on July 30-31. With a final score of 9-under, Melton notched the best score to par in championship history.
"After sinking the last putt on 18, I had the feeling of 'Finally!'" Melton said. "I've been working harder and more serious than ever before and it's nice to see it paying off."
She was able to keep the final round light-hearted with her caddie, friend and fellow SCGA Junior player, Kailie Vongsaga.
"Kailie is one of my closest friends so after finding out that she didn't make the cut, she offered to caddie for me," Melton said. "Of course, I accepted, and we ended up having the best time. She is such a great player and really helped me out, especially on the last hole."
The 17-year-old has had a busy summer winning her first AJGA tournament at the ClubCorp Mission Hills Desert Junior at Mission Hills CC by five strokes in July. She also set a tournament record for lowest single-round score at 9-under during the Girls Junior PGA Championship at Kearney Hills GL in Kentucky. In her record-setting first round, Melton had two eagles and two birdies on the back nine on her way to finishing third overall with a score of 19-under.
Melton has been a member of SCGA Junior since 2015. She has been an active user of the Golf Pass, using hers to check in at facilities more than 100 times. Melton hopes to build on her involvement with SCGA Junior during her final year of Junior golf.
"I want to make this year the most memorable," Melton said. "Playing in a bunch of tournaments, you end up seeing the same people, which allows you to create friendships, and that's one of the best parts about the game."
Following her Junior career, Melton has high hopes for where her game will take her.
"As for college golf, I want to make the Cup teams representing the United States and be one of the top collegiate players," Melton said. "After getting an education, I hope to play on the LPGA."
The rising high school senior isn't getting too far ahead of herself, though. She's still looking forward to hanging out with her friends, and especially getting together and decked out for the Friday night football games at South Hills High School.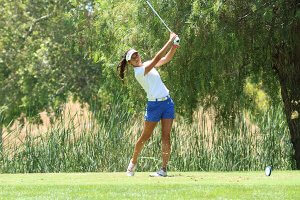 To any other Junior golfers looking to pick Melton's brain, her biggest advice is having confidence in yourself and in your game.
"The best advice I can give aspiring golfers is to have confidence," Melton said. "In my opinion, half of the game is believing in yourself and not letting a single shot or tournament define you as a competitor."