Golf is often categorized (and praised) for being an individual sport, but it's easy to see many benefits that come from team sports – sportsmanship, teamwork, camaraderie, accountability – the list goes on. SCGA Junior takes matters into its own hands though, by creating team opportunities for junior golfers, which provide unique experiences within the game. The latest – SCGA Junior's Summer League.
The Summer League, which was created in 2013, took on new importance this year in the midst of the COVID-19 pandemic shuttering most group activities.
Instead of abandoning team play opportunities, SCGA Junior expanded its own to provide a sense of normalcy for juniors. For many participants it was the first group activity they were a part of in over a year.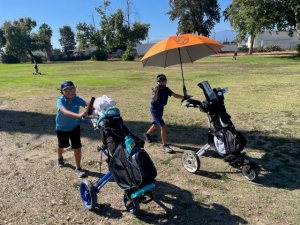 "Competitive playing opportunities are important for our juniors to continue to develop their golf skills, become more comfortable with tournament play and grow more confident in their ability to play the game," said SCGA Junior Instructor Eric Koscielak.
SCGA Junior's Summer League consists of four teams comprised of eight players each. The teams practice together multiple times a week and play a match once a week. Summer League gives juniors the opportunity to play competitive golf in a variety of formats and receive weekly instruction from the SCGA Junior coaching staff. In addition to stroke play, juniors also competed in team scramble match play, team scramble stroke play and four-ball.
"The team scramble playing formats were a big hit," Koscielak said. "Being able to work together through different scenarios on the golf course was something they all enjoyed. They also played a new course each week, which helped them understand how courses are set up differently. It also showed them they can be successful in a new and uncomfortable environment."
Bringing the team element to the game of golf has an immediate impact on the juniors' development as people and as players.
"Competition is one of the strongest elements of character building," said Player & Youth Development Program Manager John DeGomez. "Summer League gives juniors consistent opportunities to demonstrate teamwork, communication, integrity and positive youth development."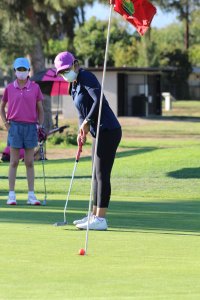 For one junior, Nataliya Laciste, Summer League isn't just about the competitive element, though that's certainly part of it.
"I'm loving Summer League because while I can still be competitive, I am also able to hang out with friends after," Nataliya said. "My brother and I have made some really special friends while being part of SCGA Junior."
The camaraderie developed extends beyond the juniors who are playing the matches. Parents, volunteers and staff are all critical parts of the community that has developed over the course of the season. And pizza parties after matches? Very common.
The social benefits of Summer League are also apparent to Nataliya's father, Rodney.
"Summer League has been great for Nataliya," he said. "It's keeping her game consistent, keeping her busy, it's challenging her and keeping her involved with her social life with all the friends she's made throughout the years because of this program."
As with all SCGA Junior programming, financial aid is available to all participants, which makes a huge impact for families, including the Laciste family, who has two juniors participating.
"Because of SCGA Junior I have been able to keep the game of golf going in my family," Rodney said. "Thanks to the financial assistance that is provided, we can continue playing the game that my kids love. My wife and I will forever be grateful for SCGA Junior – it's coaches, participants and all the staff that work behind the scenes to keep this program growing."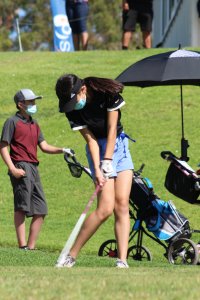 As with any season, there are plenty of memorable moments. For DeGomez, watching participant Dillon Shea roll in a 20-foot putt with a hybrid after leaving his putter in the car, was one unique moment that stood out. Koscielak, who managed the program, said the camaraderie and friendships that developed on and beyond the course left a lasting impression on him.
"Seeing our juniors supporting one another and lifting each other up during adversity and giving praise when successful was amazing," he said. "It was also great to see the scores trending lower and lower throughout the season. A lot of juniors turned in scores close to even, even or a couple of shots under par. Knowing that our practice plan translated to success on the golf course was extremely rewarding."
All told, SCGA Junior's Summer League creates a unique, team experience for juniors, with benefits that extend far beyond the final score. By providing a new and different approach to the game, SCGA Junior helps create an inclusive and welcoming environment where all juniors can find a safe space to tee it up.