SCGA Junior's Player & Youth Development program debuted its first tournament for advanced juniors at Brookside GC on Oct. 17. Boys and girls ages 8-17 were split into six flights based on gender and age. There were 29 total juniors who participated, and six champions were crowned:
Evan Reyes (15-17 boys)
Michelle Cheng (15-17 girls)
Andrew Rodriguez (12-14 boys)
Khivi Kaur (12-14 girls)
Levi Reilly (8-11 boys)
Kaelyn Yang (8-11 girls)
"My favorite part of the day was playing in the tournament with my peers," Cheng said. "It felt great to play an SCGA Junior event again after so many months in quarantine. During quarantine I often practiced in isolation and this tournament reminded me of the joy of social interaction and seeing my friends and coaches on the course."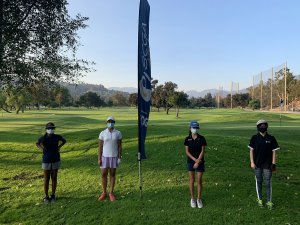 Due to the ongoing health crisis, SCGA Junior has pivoted much of its PYD program to a virtual setting. Many juniors who competed in the tournament have been keeping their game sharp through the program, which includes weekly golf skill and fitness drills, personalized coaching and opportunities to connect with friends and coaches.
For Rodriguez, one of the skills he's been working on through the virtual program is his mental game and course management. He was proud to see it pay off in a tournament environment, coupled with impressive play.
"My highlight of the round was on the second hole," Rodriguez said. "I had an approach shot of 93 yards and hit a lob wedge that led to a five-foot putt for birdie. I took my time to read the birdie putt and made it!" 
Talk about a strong mental game.
Though the competition was fierce, it was also an opportunity to meet new friends and play with old ones.
"I had a blast," said Reilly. "The highlight for me was definitely meeting new friends who were so nice and a lot of fun."
For Program Manager John DeGomez, it was fulfilling to see juniors back on the course in a competitive environment.
"It was amazing to finally host our juniors on the course for a competitive tournament this year," DeGomez said. "Most importantly, it was great to serve our PYD communities and bring them affordable tournament access."
Full results from the tournament can be viewed here.