To understand how Skylar Graham got to where she is today, one should know that every day since middle school, she took the bus to get where she needed to go. Most critically, despite the distance traveled, Graham never forgot where she came from. In fact, it's quite the opposite.
"Golf has really taught me that the relationships that I've built have been about support and encouragement," Graham said. "It's taught me to carry myself with pride but also to be humble and recognize where I come from and who I can impact."
Two important decisions that would shape Graham's life, happened early on. Now, the freshman at USC is giving back to help others who are following in her footsteps.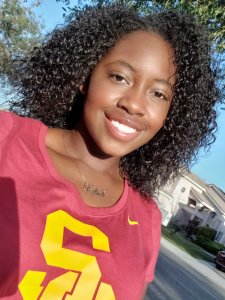 Growing up in South LA, where she still resides with her mother, Graham exceled as a student from an early age. The local inner-city schools weren't going to get Graham where she needed to be, specifically, they did not offer competitive golf programs and her mother, Demetress, recognized that. So, she started bussing out to private schools. She graduated in 2020 from Harvard-Westlake School in Studio City, an hour and 45 minute bus ride from her house.
The second critical decision that shaped Graham's life came at the age of six when Demetress realized that she was memorizing commercials while watching TV. Wanting to put a stop to that, and get her daughter up and moving, she enrolled Graham in golf classes at the former First Tee of South LA.
"Golf just became a part of my lifestyle," Graham said.
And the rest is history.
Not long after, Graham became an SCGA Junior member through the Golf Pass program. The program gives junior golfers $1-$5 green and range fees at more than 150 SoCal courses.
"I was at the golf course every day, so we just had to sign up," Graham said. "It was definitely a blessing for our family."
As her game continued to soar, Graham started playing on the local tournament circuit. She also made the Harvard-Westlake team and was a captain her junior and senior years. SCGA Junior helped prepare her for the next steps beyond the course as well. In high school she attended several college prep courses that helped her focus in on the college application process and she was invited to a mentorship and golf event at The Los Angeles CC.
Golf has been a defining part of Graham's life. She wanted to make sure that others in her community can experience the same benefits from the game.
"Being a part of SCGA Junior has taught me about being an athlete but also values like courtesy and responsibility," she said. "You do things because you want people to feel supported. It's about having a positive impact on the community around you and being a positive example."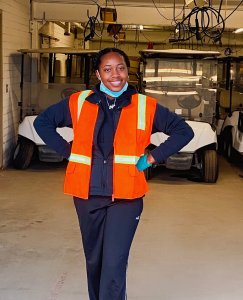 Since the COVID-19 pandemic turned everything on its head, the golf industry has been working to adapt as one of the few safe activities in which people can participate. Graham has been taking steps to ensure that is possible at her home course, The Links at Victoria in Carson. Graham volunteers weekly as a health and safety ambassador ensuring that all patrons are following CDC guidelines and respecting each other.
"It's about me giving back to the community that gave me so much in golf," Graham said. "Sometimes, it can be a really tough job regulating the crowds, and being a golfer myself, I understand how tough it is to get a tee time or wait on the range, but there are rules we have to follow so we can continue enjoying the game."
"During the pandemic, I can understand why some people might be cautious about being around others or working in the community because of health, but this is a time when people, families, businesses in my community need the most support," she said. "Giving back in any capacity is the best thing that I can do."
She hasn't stopped. An active member of the Black Student Assembly at USC, Graham participated in a virtual fundraiser for South LA families who have been economically impacted by the pandemic.
Giving back is nothing new for Graham. For many years, she and her mother been active participants in Wesson's Wheels, a holiday bike drive for local kids organized by LA City Councilmember Herb Wesson.
"It brings joy into my heart to see the smiles on the faces of the kids and their parents," Graham said. "These bikes are a way for low-income kids to get to school safely. It's been a tradition for us."
Through lots of hard work, Graham has found success on the course, in the classroom and beyond. It hasn't always been easy, but she has continued to push herself. Graham understands the impact she can have as a role model in her community: to motivate others and to set an example for what is possible.