We all know the old adage – golf is a game of life. For SCGA Foundation Scholar Gio Sandoval, he's taken that to heart. Sandoval is taking the lessons he learned as a former participant and coach in the Foundation's Player & Youth Development program and applying them in other areas of his life. He's pursuing his passions and making the world a better place while he does it.
"Golf has changed my perspective on life," said Sandoval, a junior at Cal State Fullerton who is studying political science. "I've played and I've been a coach and you see all the aspects of it. You need to practice, and put care into your game to get better and you need to learn different skills and techniques to be a coach and teach others, and it's an analogy for life."
Taking something you learn and teaching it to someone else, is a key way that Sandoval believes everyone can leave the world a better place than they found it. Beyond giving back to his community through golf, Sandoval is working to create an easier way for those in his hometown, Santa Fe Springs, to achieve a healthier lifestyle.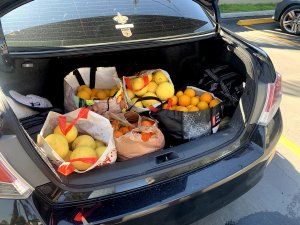 Sandoval is teaming up with his friend, Blake Carter, whom he worked with during Carter's campaign vying for a spot on the Santa Fe Springs City Council, on the Ask Your Neighbor (AYN) Project. The project collects homegrown produce from community members and donates it to the Interfaith Food Center in Santa Fe Springs.
"We're both from Santa Fe Springs and we see that our city is battling homelessness and poverty, that's why we want to start this here," Sandoval said. "Being a political science major, I'm evaluating systems and as I get older, I'm realizing that this isn't a pretty world. I've seen the income gaps in our city and it made me realize that I live on a nice street and the next street over isn't like that. Giving back to the community means a lot to me."
The duo hopes to expand to bringing produce directly to people in need and to inspire a new wave of community camaraderie through community gardens. In the past month alone, AYN Project has collected and donated more than 1,000 pounds of fresh produce.
Sandoval touts the positives of the program, which extend far beyond just delivering fresh food.
"It helps multiple aspects: it gets people excited about going outside and growing things, it helps the environment, makes our city cleaner and because produce is so expensive, this can make a huge impact on people's budgets."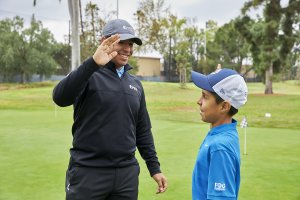 Through it all, Sandoval ties his personal successes and dedication to giving back, to golf.
"The Foundation has made me the man I am through all the coaches I had growing up and all the kids I coached," he said. "It's helped me develop leadership, my work ethic and develop as a man. I'm grateful for everyone that I've met."
As for the AYN Project, Sandoval will continue working to emphasize the importance of a healthy lifestyle and providing people with the resources necessary to attain it.
"To make a better life we want to promote healthy living, and healthy food is expensive," Sandoval said. "How can we promote healthy lifestyles in our community when we make it so hard for them? It's like asking how you can be a golfer if there is no course."
Sandoval's analogy shows how deep the ties to his everyday life run to the game of golf. After all, golf is the game of life.