For SCGA Junior scholar Martin Perez, there are two things that stand out as his great passions in life. His enthusiasm for both golf and medicine are clear in any conversation with the rising junior at Chapman University. SCGA Junior has helped Martin achieve his dreams and give him special opportunities that he wouldn't otherwise have. For example, his favorite golf memory is playing The Los Angeles CC alongside members during a Mentor Play Day – that's not something just anyone gets to do.
"There's no way that I would ever be able to play there without SCGA Junior," Martin said. "I wouldn't have even thought about it as a possibility. It's honestly a blessing."
For Martin though, the special opportunities extended to him because of his continued involvement go far beyond the incredible courses he's been able to play and people he's been able to meet. He's been able to pursue his two great passions in life – one on the course and one in the classroom.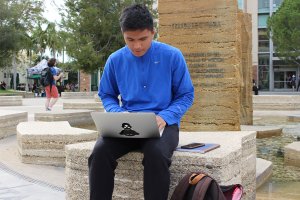 Martin is part of a five-year accelerated pharmacy program at Chapman. His great passion is medicine, and specifically oncology, because of his own family's experiences with the medical field. Martin has had several family members who have lost their fight with cancer within the past few years.
"Their medication didn't help them, so my family had this misconception that the medical field isn't doing their job," Martin said. "I decided to become a pharmacist to make an impact in the field of medicine, specifically within oncology."
As part of the program, Martin has completed four years of pharmacy school prerequisites in two years. He'll now attend three years of pharmacy school. It might sound daunting, but for someone who self-admittedly loves organic chemistry, learning the intricacies of the body and how different chemicals affects it is quite fascinating.
"Chapman is an expensive school so without the financial help I don't know if I would be able to go to school here and if I didn't go to school here I wouldn't be on track to be a pharmacist, so it's really affected my future," he said.
Before Martin ever dreamed of changing people's lives, he discovered his other great passion in life – golf. He was introduced to the game by his dad and started playing at a young age. But he gave it up after a few years. When high school rolled around, he decided to swing the sticks again and after spending his freshman year on the JV team, spent the next three years as a varsity golfer at Cypress High School.
"I wasn't the best but that wasn't the most important thing to me, I just love golf," Martin said. "I was just in love with the sport. And some of my closest friends were on the team."
Having those positive experiences with the game restored is one reason why he kept with it. Another was that his family could afford to because of SCGA Junior's Golf Pass program.
"I'm a twin, so everything is doubly expensive for my parents," Martin said. "Golf is so expensive so finding a cheap option was really important to our family."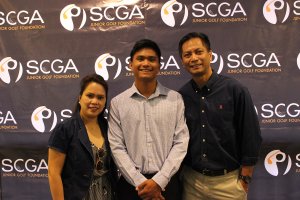 The Golf Pass allows juniors like Martin to play and practice at more than 150 SoCal courses for $5 or less. That access allowed Martin to develop his game and his personal growth and he credits the game of golf for teaching him integrity, independence and not taking things personally.
"When I'm golfing it's just me and the course and that's just how life is," he said. "I can't have someone holding my hand through all of it."
As he's continued to grow as a golfer, person and clearly as a student, Martin has taken on his new roles with grace and humility, crediting his parents, twin sister, coaches and various other supporters with getting him to where he is today.
"SCGA Junior opened a lot of opportunities that I could only ever dream of," Martin said. "I've also met so many great people like the other scholars and staff. They've opened me up to everything in the golf world and the scholarship has helped my family and I so much."
For Martin, SCGA Junior has helped him pursue both his passions, golf and medicine, one on the course and one in the classroom.