Golf teaches its players patience, hard work and competitiveness. For some junior golfers, though, those skills end up translating off the course into other passions. SCGA Junior scholar Bailey Osborne channeled the character traits that she developed on the course into a passion for medicine that has landed her in one of the most prestigious sports medicine internships in the country.
A senior at UCLA studying biology, Osborne applied to the UCLA Sports Medicine Internship program after her freshman year. Out of 200 applicants, she was one of 80 that was selected initially. For the fall and winter quarters of her sophomore year, she was battling against the other members of the program to transition from probation to become a full-fledged member. Students were cut every five weeks based on skills tests including stretching techniques, administering ultrasounds, wrapping athletes and performing soft-tissue massage.
"I love being a part of this and I couldn't see myself doing any other program," Osborne said. "It's been the most rewarding part of college."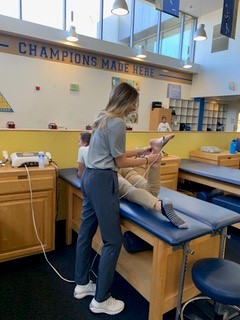 Osborne, who was introduced to golf at age six, didn't start playing competitively until high school. Wanting to get more involved and meet new people, she decided to try out for the team and the benefits lasted her long after high school ended.
"Golf was a huge time commitment in high school, so it helped me learn the time management skills that I now use every day," Osborne said. You'd have to play and then still figure out time to do homework."
Though she didn't want to pursue golf in college, the game has continued to pay it forward for Osborne who was a WSCGA scholar, before becoming an SCGA Junior scholar after the unification.
"Golf has given me so much and I learned so much," Osborne said. "There are so many opportunities that I've had because of golf and I apply skills from golf to everyday life. Even this scholarship."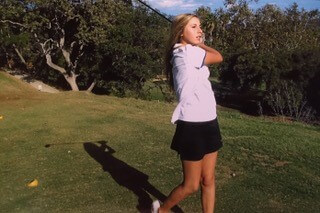 Through her time at UCLA, Osborne has advanced within the sports medicine program. She now serves as one of the head mentors for rookie members of the program. Being the captain of the golf team for three years in high school certainly helped her prepare.
"Golf is all about patience and communicating and working with a team," Osborne said. "It taught me how to be a leader and lead a team and facilitate between coaches and players. In sports medicine, I have younger students that work with me and I can facilitate between the head athletic trainer and these younger students. Whenever there's a disagreement, I'm there to help."
Not to mention that Osborne also served as the president of her sorority, Alpha Phi. Laughing, she noted that there are a lot of leadership skills necessary to lead a group of that size.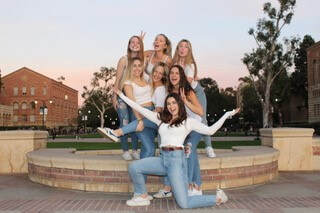 Though her time at UCLA is coming to an end, Osborne has recently experienced the highlight of her time there: being assigned a surgical rehab case. After observing the surgery, Osborne has been able to work with the head athletic trainer to develop a rehabilitation plan and lead the athlete's weekly rehab sessions.
After graduation, Osborne, ever the motivated person, plans to attend graduate school. However, while she's applying she'll be working as a PT aid getting myriad experience at a clinic.
She still reflects on the benefits that the game of golf has given her beyond the course and that she knows will continue to exist into her professional career.
"This is the universal sport for networking," Osborne said. "For any girl who is thinking about trying golf, just go for it. Knowing how to play this sport will benefit you in the future."