In 98-degree heat, 30 high school girls made their way around the Don Knabe GC 9-hole track, many of them playing the biggest championship of their lives. It was the second annual San Gabriel Valley League JV Girls Golf Championship.
All the schools, other than one (La Serna High School), had their girls golf programs started five or fewer years ago. To be participating in a JV tournament after such a short time is extraordinary.
"When we started, only one other school in the league had a team (La Serna)," said golf coach and athletic director of Santa Fe High School Steve Hendry. "Now every school in the league has not only a varsity team, but JV, too."
Before the girls teams was started, SCGA scholars Stephanie and Natalie Gonzalez played on the boys golf team at Santa Fe where they helped the team win two straight league championships. After seeing their success on the team, other girls wanted to get involved.
According to the National Federation of State High School Associations, high school sports participation decreased nationwide for the first time in 30 years, making the growth of local girls golf even more noteworthy. For teams in the San Gabriel Valley league, this growth is attributed to SCGA Junior.
"Without SCGA Junior, I wouldn't be playing golf," said Emma Kurata, a ninth grader at Gahr High School. Emma is an SCGA Junior member and frequently takes classes at Don Knabe GC.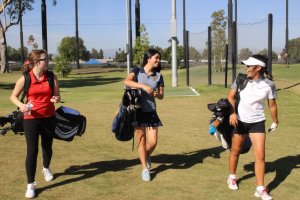 "It's so fun because I get to learn with other people that are my age," Emma said. "It's not just golf either. We do fitness and play games and get to have fun together."
Gahr finished in sixth place, of seven teams, but that didn't stop Emma and her teammates from again, raving about the fun that they had.
"This is the first tournament that I've ever played in that was all girls," Emma said. "It was so fun. Even though it was a tournament, it was fun to meet new girls and talk to them."
For the SCGA Junior coaching staff that was on-hand, it was a full-circle moment. Many of the girls have been participating in classes since they were kids.
"I've coached a lot of these girls since they were six or seven years old," said golf instructor Eric Koscielak. "Now they are in high school and it's great to see that they've stuck with it and how far they've come."
SCGA Junior also hosts team practice for several schools in the league and has hosted summer classes specifically for girls to help them gear up for the season.
"The coaches here are so fun for our girls," said La Serna head coach Wayne Manzo. "We have more girls in our program, both on varsity and JV because of SCGA Junior."
SCGA Junior programming with the teams in the San Gabriel Valley league has helped grow a sport that is often inaccessible to local girls for socioeconomic and cultural reasons. For Koscielak, regardless of who wins, that alone is a reason to smile. SCGA Junior stepped in to host the JV girls championship to give these girls an additional playing opportunity and a chance to celebrate their season.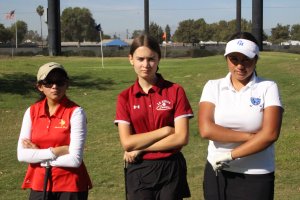 "This is a group of girls out here playing today that wouldn't otherwise have this opportunity," Koscielak said.
The effects of the tournament have only helped increase participation in the sport.
"SCGA Junior has given the girls an experience that was better than they could have hoped for," Hendry said. "Now, they're getting involved with the SCGA Junior program, and it has benefitted everybody."
La Serna High School took home the team victory with Warren High School and Santa Fe High School in second and third, respectively. Santa Fe's Kitiya Chanklin took home the individual crown, edging out Warren's Lily Tobar. Tied for third were Warren's Alex Carrillo and La Serna's Samantha Woods.
To view full results, please click here.
To view photos from the day, please click here.