School is finally back in session, but SCGA Juniors members are working hard year-round. A focus and dedication to success on the course and on the classroom is important to members, and that has become evident through the College Prep program. The program consists of a variety of opportunities including seminars with industry leaders, networking with current college students and field trips to local universities.
This summer, the program kicked off with seminars led by college golf expert Ted Gleason focused on the themes: Finding Your Best Fit and Tournaments & Rankings. Gleason played collegiately at UCLA before playing professionally in South America and Asia. Formerly a college coach, Gleason has served as a resource for many juniors with college hopes.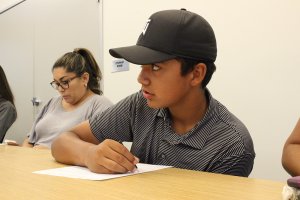 With an emphasis on the fact that there is a place for every junior to pursue collegiate golf, Gleason focuses on prepping kids and parents on the steps that they can take to get their game and academics where they need to be, setting realistic expectations and finding a school where they would be happy even if golf was no longer in the picture.
To start, Gleason advises the following:
Visit a bunch of college campuses – every chance you get!
Take an honest inventory of yourself
Dig in on research
Make a list
Be proactive
Gleason was joined for the Finding Your Best Fit Seminar by scholars Samantha Rocha, a recent graduate of Occidental College, and Alyaa Abdulghany, a junior at USC. Both girls are members of their respective golf teams and were able to lend the first-person experience that many families are lacking.
"I loved getting to talk to the scholars and get their answers and opinions," Hallie Brisco said. "I want to be a science major and play college golf, so hearing from Samantha who was able to do the same thing was really inspiring and informative."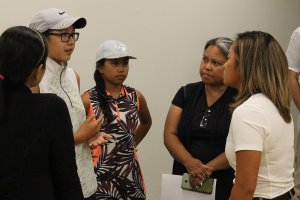 In the Tournaments & Rankings session, Gleason focused on how a junior can evaluate their game and what tournaments to play in to be noticed by college coaches and land on the rankings.
"The more you play in tournaments outside of high school, the more you'll learn about yourself and the more comfortable you'll become," Gleason said. "You're building a resume for college coaches to look at."
Gleason emphasized the importance of playing tournaments outside of high school to gain experience that simulates college golf. Gleason also advised that coaches aren't just looking at scores, but how a player acts on the course.
"They are watching you to see how you carry yourself out there, especially after a bad shot or a bad round," Gleason said. "Coaches want people with character who are going to finish."
The college prep program will continue with more seminars and college field trips in the future.
"Don't get caught up in what everyone else is doing or thinks," Gleason said.  "Figure out what works for you. There's a place for you somewhere. Everyone in this room tonight can play college golf somewhere."