We all know that golf is hard. Like really hard. And one of the most challenging aspects of the game isn't even physical – it's the mental game. SCGA Junior welcomed one of golf's mental game experts, Rick Sessinghaus PGA, PSY.D, in a seminar for junior golfers. Sessinghaus has a unique background in working with junior golfers. His foremost professional client, Collin Morikawa won the 2020 PGA Championship and the two have been working together since Collin was eight.
Sessinghaus' opening remarks encouraged all juniors to use the seminar as the first step towards improving themselves rather than being intimidated by the mental game.
"Anyone can start improving their mental game tonight, that's what's so cool about the mental game," he said. "I can be as focused as Collin Morikawa because I can train my brain just like the best of the best."
Sessinghaus introduced the juniors to the idea of flow – a state of peak performance.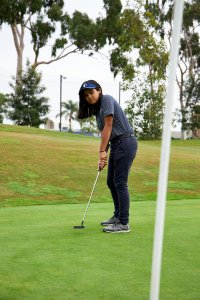 "My favorite part about the seminar was the concept of the flow mental state," Sophia Martinez, a 15-year-old participant said. "Flow is the state in which we feel our best and play the best. I love this concept because it helps me set a goal in my head of how I should feel and what to do in order for that to happen."
Sessinghaus walked the juniors through several aspects of their game that can help them achieve flow including: focus, confidence, emotions and goals. Throughout the seminar, Sessinghaus encouraged positive thinking and self-talk and gave juniors tangible examples that they could practice.
"Sometimes you're going to make the wrong decision but you're going to learn and that's what makes you better next time," Sessinghaus said. "Emotions are so important, and a lot of junior golfers can improve in this area. If I'm frustrated, that's not going to help me. If I'm thinking about the last bad shot, my next one isn't going to be helped by that."
For many juniors, these tips were the first time that they had been exposed to this level of detail related to the mental game.
"My favorite part of the seminar was when Mr. Sessinghaus suggested to always ask myself what I did well on my round of golf before asking myself what I struggled with; put the positive before the negative," said 14-year-old Jonah Siu. "This has helped me to stay calm on the golf course and to visualize good shots rather than being fearful of hitting bad shots."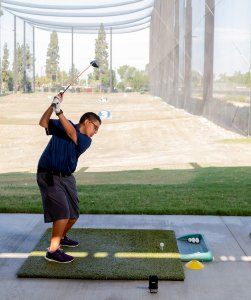 Additionally, Sessinghaus introduced the juniors to meditation, breathing exercises and visualization as positive tools to help them both on the course and in their personal lives.
"Be creative and use your mind to help you make the shot," he said. "The more that I can see the shot, the more confident I will be and now I am focusing on what I want. Visualization is a very important tool for the preshot routine."
For 11-year-old Kaelyn Yang, learning new tips to focus is something that she can immediately implement into her game.
"Something new that I learned was how to focus better when playing golf," she said. "I liked that he talked about meditating and also closing your eyes to see the shot you're going to have."
Juniors were able to ask questions at the end and Sessinghaus spent several minutes telling some of his favorite stories about his time on the PGA Tour with Morikawa and from his own experiences on the course. Sessinghaus also took the time to answer the juniors' questions about their specific golf games and advise them accordingly.
"I will always make sure to remember the mental side of golf, and keep referring back to all of the things I learned," 13-year-old Ayuka Yang said. "I think this seminar will definitely make me a better golfer because golf is a mental sport, and if I get better at staying calm, being confident and reflecting on my rounds in order to improve my future play, it will really improve my game and make me a better golfer."
For more information about Rick, visit him here.