The world is a daunting place – both on and off the golf course, but golf provides a nice parallel to life. Sand traps on the left, watch out for the rough on the right; applying for and financing college, finding that dream job. That's where the SCGA Junior Golf Foundation mentors come into play.
Through Mentor Play Days, club members play alongside a promising young junior for the day and help them not only with reading greens, but also offer life advice.
Palos Verdes GC hosted their sixth annual Mentor Play Day this summer, with fourteen juniors ranging from middle schoolers to college students coming out for a day of camaraderie on the peninsula.
"The highlight is meeting the kids and seeing the quality of kids that we're reaching," said advisory committee member and Palos Verdes GC member Mark Pfeil. "I think golf is a great game for kids to play that gets them out of their everyday lives. It gets them away from certain things. The golf course is a safe place and they're around adults that eventually they'll be interviewing and working with. They get more comfortable talking to adults and the confidence that they develop is just amazing."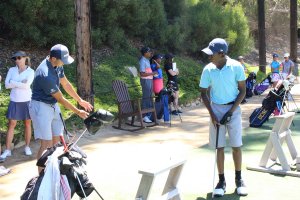 For the juniors, Mentor Play Days are an opportunity to play a club that they wouldn't otherwise have access to and meet highly successful adults that are able to provide life advice. This year's event was extra special as former Pepperdine men's golfer Anthony Cecere joined the juniors on the range for a pre-round clinic and gave out pointers.
"These events have been really valuable to me because they've allowed me to meet and network with some amazing people," said participant and scholarship recipient Dana Bryant. "I would never have the opportunity to play at prestigious clubs like this otherwise."
For the crew at Palos Verdes, they've been able to see the juniors grow over the course of several years, and it's only increased the joy that they get from playing alongside their mentees.
"Over the past six years, I have seen many of these juniors develop into impressive golfers, but more importantly, into motivated students and fine young citizens," said Foundation board member and Palos Verdes GC member Scott Chernoff.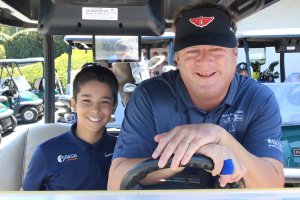 Mentor Play Days are one of the Foundation's highest-impact activities. Through the time spent on the course with caring adults as well as the public speaking practice that comes after the event, many juniors have reflected that Mentor Play Days have helped them become the people that they are today.
Juniors are selected for Mentor Play Days based on their involvement, attitude and character and members leave impressed with the group of young golfers.
"The quality of kids always blows my mind – they always act appropriately," Pfeil said. "We're not just grooming kids to be pro golfers, which I think is big. We're grooming them to be great individuals, get a great education and pursue their dreams, whatever those may be and giving them a path to be able to do it."
Pfeil and Chernoff both feel strongly about giving back to the game that has given them so much over the years and that they love.
"We love to give back because we love the game," Pfeil said. "We're all very fortunate to belong to a club and we feel that it's our responsibility to grow the game and get youth involved in golf. There are so many attributes that are learned through golf and I know we all think it's important to give back."
Pfeil cited many mentors including former Palos Verdes GC pro Bud Oakley and Tour pros Dave Stockton and Al Geiberger as part of his inspiration for giving back. And at Mentor Play Days, the adults are having just as much fun as the kids.
"The highlight of the event for me is hearing from fellow members how much they enjoyed playing with the juniors and seeing all the smiling faces of the juniors when they're playing our beautiful golf course," Chernoff said.
Bryant, who is a member of the women's golf team at UC Santa Cruz, expressed how important these events are to her and her peers.
"I would encourage every club to host any event like this that exposes junior golfers to the community and networking side of golf."
Mentoring and volunteering with juniors is a powerful way to help them on and beyond the course while growing the game.
"You're going to love this event," said Pfeil. "You're going to meet kids that you're going to enjoy spending time with and getting to know, having them play at your course that most haven't had the opportunity to play and bond with everyone. You watch these kids grow up and go to college and see how they blossom throughout the years."
If you are interested in learning how you can make a lasting impact on the next generation of golfers, please contact Jennifer Seislove.