When Tim Randall and his wife moved to Southern California from Arizona, it only took him two days to find his new home course in Strawberry Farms. It didn't take him much longer than that to discover the SCGA Junior Golf Foundation. After learning a little more about the program offerings, he was hooked.
"I thought it was a really cool to give back to the game that I'd liked for more than 40 years, especially getting young kids involved in a game that you can play forever," Randall said.
A competitive golfer, Randall frequently participates in SCGA one-day series events and any championship that he can qualify for. The experiences that he's had, both competitive and social have created lifelong memories and values.
"We need to get young golfers into the game at a young age so that they learn the game and want to play it for the rest of their lives," Randall said. "It's hard for kids to pick up later in life because of the financial commitment. Giving back to me, means that I'm paying the lessons forward that golf has taught me and I might be paired up with a junior in 10 years and they'll be better for it and I'll be better for it."
Randall gives back through the Foundation's unique monthly giving program: Change Makers. As a Change Maker, Randall is part of a special group of supporters who makes a monthly contribution. Change Makers are critical to the success of the Foundation through the consistency of their gifts.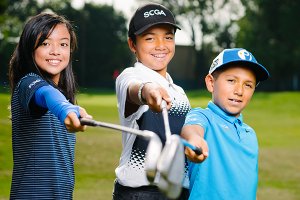 "When you make a commitment to give monthly, it's easier because it's just a couple cups of coffee; it's not a financial issue at that point," Randall said. "If you have the ability to do $10 a month, you don't really feel it, but it makes a difference."
Randall specifically credits the values-based teaching of the Foundation's programs as a reason why he feels compelled to give back. In the Player & Youth Development program, all instructors and coaches are trained in positive youth development techniques so that they teach kids more than just how to hit a golf ball. They teach honesty, sportsmanship, camaraderie and they do it in a safe environment where all juniors can succeed and have fun.
"There are thousands of charities that you can give to, but if you're going to give, why not give to this Foundation, which is integral to your life," Randall said. "This is something that I believe in. Southern California is my home. Golf is very important to me, why not invest in the future of a great game and expose the next generation to that game."
Want to join Tim as a Change Maker? Join today.