The chance to learn from a local legend proved a true pre-Halloween treat for the budding Girls Golf program in Riverside.
In mid-October, veteran touring professional Lee Lopez, a native of Whitter and former UCLA standout, spoke and swung before a gathering of nearly 50 girls, ranging in ages from 3-17.
"It was a really fun opportunity for our Girls Golf chapter; bringing in Lee resulted in the most girls we've ever had out for an event," says Jakeishya Le, program coordinator at SCGA Junior in Riverside. "She's a great role model, and inspired, motivated and encouraged the girls."
Riverside's Girls Golf program, still less than a year old, already has over 120 total participants. Opportunities for the junior players to spend some time with Lopez, a veteran of nearly 100 LPGA events, proved a hit for the growing chapter, with the day ranging from questions to tutelage to a unique autograph session.
"My favorite part of the day was the Q&A," says Lopez. "It was so much fun to hear all of the creative questions the girls came up with. We got to talk all things golf, books, travel and food!"
The elder students were quick to pick Lopez's brain on swing study.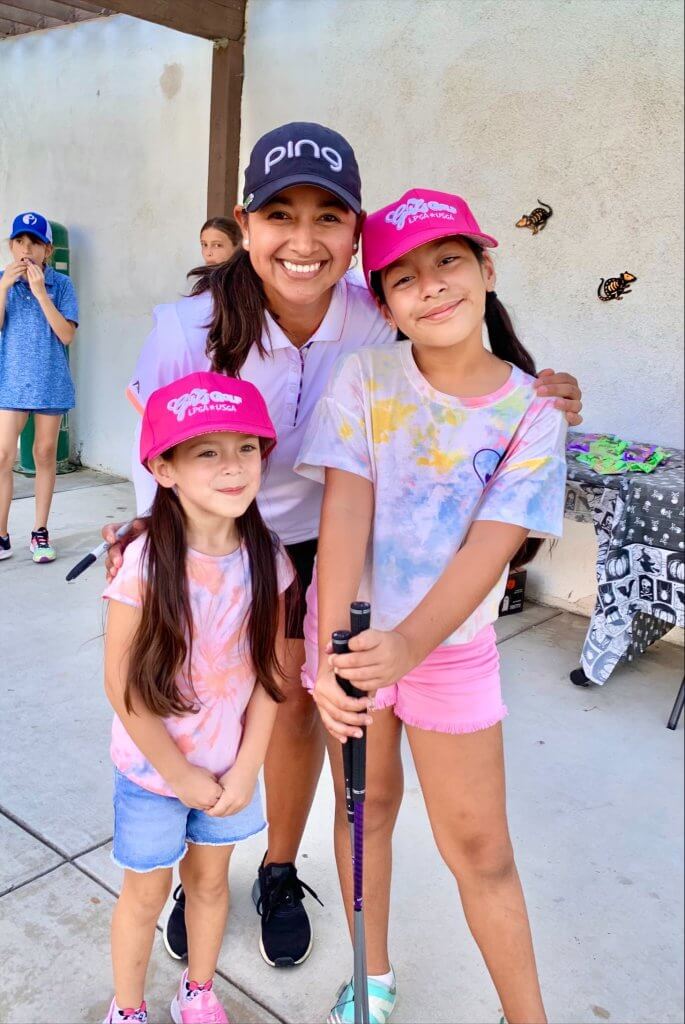 "The older girls were asking things like, 'What should I focus on to improve my game?' And Lee talked about how much she focuses on her short game, the importance of practicing – and dreaming big," says Le of the day's Q&A session. "I think the biggest takeaway for the girls was that it's possible to do it, to play college or maybe even pro golf; like many of our girls, Lee started playing when she was very little, so for our juniors to see it in person, to see how far Lee has come, I think it was very inspiring."
The range session from Lopez – author of two wins and 18 top-10s in her Bruins' career – saw the veteran display her own skills before going girl-to-girl with swing tips.
"We all warmed-up together with stretches, and then when Lee started hitting balls, the girls were just in awe of how far and straight her shots were," adds Le. "And then she made time for 1-on-1 range sessions; our teenage girls were especially excited to have Lee watch them hit, and she was really encouraging, very helpful with giving the girls some 'secret tips' on how to gain distance."
One such range recipient was avid Girls Golf participant, Audrey Flores.
"It was very fun to show her our swings and to let her help us improve," says the 10-year-old Flores. "And we also got to ask her questions. I asked her when she started playing and when she became a pro golfer. She said that she started playing when she was very young, like 5-years-old, and then she told us about how she's traveled all over the world playing golf."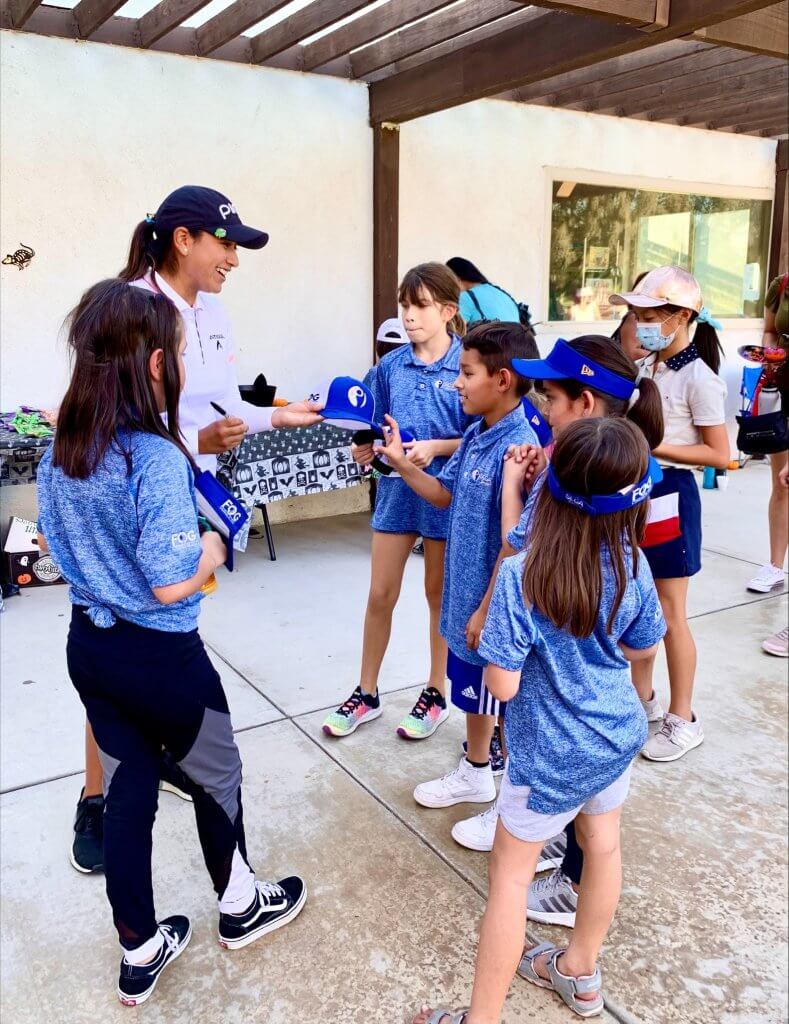 Before having Lopez sign a ball and her SCGA cap, Flores received some specified swing study from the pro.
"I really liked seeing her hip movements, because I'm trying to work on that myself," adds Flores. "And when it was my turn with her on the range, she helped me with rotating more. I was nervous and excited at the same time, but she helped me a lot."
The visit made more than an impression on the students alone.
"I did not have a program like SCGA Junior growing up," Lopez says. "I think the experience the SCGA Junior is providing little girls now is something they will always remember. It is so special that they can build friendships with fellow girls in their community and learn and enjoy the sport together."
Prior to the day's close, the girls received some unique keepsakes, including a few season-centric signatures.
"We also did arts and crafts, and were painting pumpkins," concludes Le.  "So, when we were finished-up, some of the girls asked Lee to sign their hats, their shirts; and a few of the girls even had her sign their pumpkins."