Katherine always works hard to keep improving her game. Her work ethic stands out to her coaches and they love seeing her show up at the course to work (and of course have fun while doing it)! She enjoys coming to class, learning and applying that when she goes out and plays on her own.
How long have you been with SCGA Junior?
I've been with SCGA Junior for just a few months.
What is your favorite golf course?
My favorite course is Roosevelt Executive GC because it's challenging and it's big so I can use all my clubs. I can see deer eating while I play, as well as gophers and coyotes. It's great!
What is your favorite thing about golf?
My favorite part about playing golf is how I'm able to be outside exercising, breathing fresh air and having fun. I love to play with my Dad and making pars.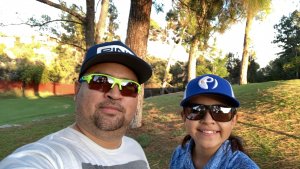 What is your best SCGA Junior memory?
My best memory is on the last day of Spring Session, I got to play Whittier Narrows GC with my classmates. Another memory is when I won tickets to the U.S. Open. It was such a blast! I got to see Bryson, Rory, Rahm, Wolff and DG in person.
Why do you like SCGA Junior?
I like to go to SCGA Junior events because it's so much fun. I get to learn new things about the game of golf, I get to meet new people and I get to spend time with the best coach ever, Coach Stephanie!
Favorite golfers:
Bryson DeChambeau, Rory McIlroy, Phil Mickelson and Severiano Bellesteros
Hobbies:
Drawing, painting and I'm trying to learn to play the piano