As an SCGA Junior golf coach, I know that I am a role model to so many young golfers. I see them mimic what I do in class, and it makes me so happy to know that I'm a part of why they love coming to the course. My name is Christian Oster and I'm a coach in our Player & Youth Development program here in Riverside.
I love seeing the kids' faces light up when they understand what to do and see how proud they are when they make progress. As a former SCGA Junior participant myself, I've been playing golf for several years and know how big it can be in someone's life. I grew up using the Golf Pass to have affordable playing opportunities, I still play competitively for El Camino College and now working as a coach is something that I love. It's so much fun to know that I'm working alongside people who are just as passionate about golf as I am.
Our Riverside community is growing every day. We've already nearly doubled our registration from the first session that we hosted at the beginning of the year and are beginning to see some familiar faces that always come back to the course. I've become especially close with Adrian and John – two kids that I coach every week. They bring the energy, and it's contagious!
I've learned that golf is a game that teaches you a lot about life. I always tell the kids to keep at it. Golf can be frustrating at times, but it's a lot like life in that way. Sometimes it knocks you down, but you should always get back up and keep trying.
I'm so passionate about bringing kids from our community to the course and showing them everything that this great game has to offer. There are a lot of kids we want to get out on the course!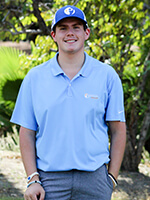 Christian Oster, Program alumni and part-time coach