When Angelina Kim first started her high school career at Fairfax High School, she knew that they didn't have a golf team. In fact, that was one of the reasons that she chose the school. Fast forward four years, and the high school senior has not only completed a very successful high school golf career, but she isn't done playing competitively yet.
Kim chose Fairfax HS so that she could focus on her academics and personal life after years of grinding on the course. But, as is the case with any life passion, she couldn't stay away for long.
"I saw all my friends playing tournaments and playing in CIF and I started missing golf," Kim said. "I decided that I wanted to start a team."
She worked with the former Fairfax assistant principal to get it done, and the team was in place before her sophomore year started, but that was really when the work began for Kim. She was starting the team from the ground up and that meant recruiting other girls from school to play a sport that many of them had never been introduced to before.
"That first year, there was only one other girl who had ever picked up a club before, the rest were softball or soccer players," Kim said. "That season was so fun because everyone was motivated. Everyone who was there really wanted to play golf and also have fun doing it."
Even though that may not sound like an ideal situation for an elite player, her sophomore year was the highlight of her high school career. One reason was that it was her first year of high school golf, but she also dominated the SoCal circuit as an individual.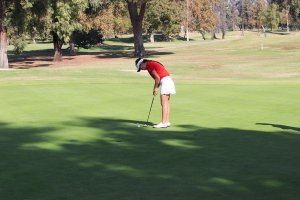 After winning CIF LA City Section in a playoff over SCGA Junior Deb Long scholar and Cal golfer Jasmine Lew, she went on to defeat University of Illinois Urbana-Champaign commit and SCGA Junior member and volunteer Isabel Sy in the CIF SoCal Championship. Oh, and Sy is one of her best friends, so there was more than just some friendly competition involved.
She advanced to the CIF SoCal Championship again as a junior and a senior and earned her second LA City Section title as a senior. The day before teeing off in what would be her final high school tournament, Kim signed with Long Beach State where she will play collegiate golf.
She wanted to stay close to home, but also loved the team and the coach at Long Beach State, and to top it all off, she already has friends on the team, something that has historically been a huge plus for her.
"I didn't want to play high school golf because people told me it was a waste of time; I know now that it's not," Kim said. "I've made more friends at my school through the golf team and they are like my second family."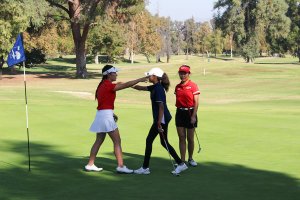 With aspirations for as successful a collegiate career as she's already had elsewhere, Kim also strives to one day turn professional. Before she was an elite golfer though, Kim started as many young golfers do – following her dad to the driving range. She first picked up a club at the age of 7, and then started taking it more seriously and playing tournaments at 9.
"I like the competition the most," Kim said. "It's different than other sports because it's individual and even though it's hard at times, I know that I'm always the one that has to do well, and I like that."
Not one to shy away from the competition, Kim has used her Golf Pass over the years to get her ready for countless tournaments.
"The Golf Pass definitely helps," Kim said. "Especially the discounts that I got on practicing at the range every day, that was huge."
Through it all, Kim's favorite golf memories have come as a result of the friendship and camaraderie on the team. And that's something that she hopes every girl can achieve, regardless of what team golf options a school provides.
"I'd encourage any girl, if they can, they should make a team and don't be afraid to join the boys team if you can't," Kim said. "Being on a team is so good because golf is an individual sport, but with a team you know that you have people supporting you. Regardless of how you play, they are there for you."
–
If you'd like to learn more about SCGA Junior's girls who golf, please click here.