So often SCGA Junior Scholars combine their love for golf with another passion beyond the course. For rising Colgate University senior Veronica Chen, that second passion has become communications and she has been able to parlay her passion for golf and talent as a communicator into an internship with the PGA Tour.
Chen's golf journey began as a young girl in Southern California looking for opportunities to play the game. She used her Golf Pass (per her own admission maybe a little too much) and became such an involved member that she was invited to participate in Mentor Play Days. These special days are invite-only opportunities for juniors to play alongside members of private clubs for a day of networking and mentoring on the course.
"Playing golf and bonding with professional adults really helped me become more comfortable in talking to different supervisors and executives at work," Chen said. "Golf gives you something to talk about and it helps you relate to others."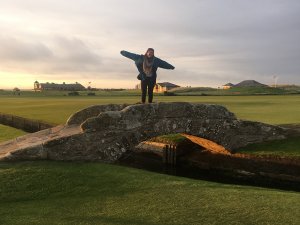 And with her current employment, being able to talk about golf is key. Chen landed a highly competitive spot in the PGA Tour's communications department. From helping with player notes to shadowing other departments, the experience has confirmed for Chen that there's no place like the golf industry and working within the space is where she wants to be.
She has especially enjoyed a series of events held for interns that are conversations and classes led by executives and a competition among interns to present a real marketing strategy. Her team won, by the way.
"I've just been presented with so much real-life experience that not every internship provides," Chen said.
Success is nothing new to Chen. After playing golf competitively in high school and helping her team win the CIF State Championship her senior year, Chen was set to close the book on that chapter of her life. She developed a passion for learning new things in college that drew her to journalism and taking a step back from competitive golf allowed her to rediscover the community and atmosphere that made a career in golf so enticing.
Then, through a study abroad experience, Chen spent a semester at the University of St. Andrews in Scotland. She joined the ladies golf club and was immediately reminded of everything that she'd been missing in the game.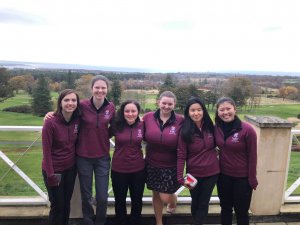 "When I went to Scotland, it reminded me of the community that I had found in golf previously," Chen said. "Everyone is so passionate and connected and it brings people together. Being immersed back in the culture just hooked me back in."
Not to mention she had the opportunity to play some pretty cool courses too, including the Jubilee Course, the Eden Course and the Strathtyrum Course, which are part of St Andrews Links; Kingsbarns Golf Links and the Duke's GC.
With the bag back on her shoulder, Chen has been able to find that magic balance between playing the game that she loves and also making it her career. She credits golf with helping her develop professionally off the course by increasing her patience, people skills and work ethic.
"SCGA Junior holds a special place in my heart," Chen said. "Not only has it helped me with my game, but it also helps me with college and pursuing my dreams off the course. I've been able to do things that I wouldn't have been able to do otherwise."