As the COVID-19 pandemic continues to rage globally and take a toll on local communities, one junior golfer and his family decided to take action and make a difference.
14-year-old Josiah Joseph and his brothers, Jared and Jacob, attended the Los Angeles Urban League Biz Camp, a program that teaches teenagers about entrepreneurship. At the camp, students create and present business plans with the goal of receiving a cash award to help turn their idea into a business. The triplets were inspired to make their community safer by building COVID-19 safety kits.
After receiving a loan from their instructors, the boys got to work.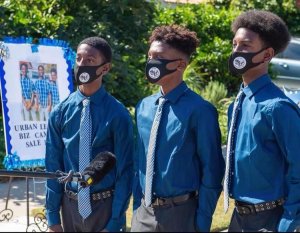 Each kit includes a mask, hand sanitizer, gloves and a bottle of water. Using the money from the camp to prep their kits, the boys were ready to sell them in order to make the money back. However, they received an even stronger outpouring of support from the community than expected.
"We sold the kits, but also received many donations from friends, family, neighbors and our community," Josiah said. "With this support we actually broke the record of profit earned for the camp."
Their business blew up so much that through local connections LA Fire Chief Daryl Osby heard about what the Joseph brothers were doing and wanted the local department to support. They came out and met the boys and donated to the cause during a local news story.
"The LA fire chief Daryl Osby heard of the what the boys were doing and felt compelled to invite the local news, personally meet the boys and to congratulate them on their community involvement," the boys' father, Richard Joseph said.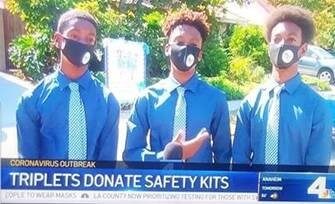 Josiah has been involved with SCGA Junior since 2013 and has been an active member of the Southeast LA PYD community. A star athlete, golf is one of many sports that he plays alongside his brothers. A game of values, clearly Josiah has taken many of the key lessons from golf and applied them to his daily life.
"My brothers and I are proud and it feels very good that we are helping our community, changing the world and being role models," he said.
This isn't the first time that the Joseph brothers have given back. They regularly volunteer with their family for the non-profit organization, We Are Our Brothers Keepers, which helps supply the homeless with backpacks and safety supplies and have volunteered and raised money for various SCGA Junior events. It also won't be the last time they give back. Josiah shared that the brothers are working on launching a clothing business, and through that they plan to continue giving back and helping the local community.
"I'm so proud of these boys and what they are doing to give back to a worthy cause," Richard said. "My wife and I are proud parents of these young men and who they are shaping up to be."