We're in the business of striking a balance between playing competitive golf and having a great time doing it. On Saturday, SCGA Junior hosted a Learn to Compete Tournament in which the goal was just that – teach junior golfers how to play the game competitively in an environment that encourages further development.
Split into groups based on gender and age, the tournament, hosted at Pico Rivera GC, gave 19 kids the chance to play in an affordable and local competitive tournament.
"It's a friendly environment, but they play seriously and that's what we're looking for," said Tom Vitoorakorn.
His son T.Jay won his flight and enjoyed the opportunity to practice his game.
"I just started high school and it's been stressing me out so I've been enjoying golf more," T.Jay said. "Today I was a bit more consistent with my putting."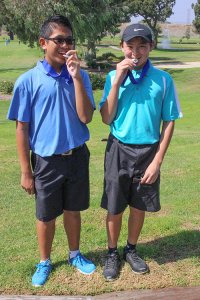 "No one was really serious today," Kong said. "Everyone was pretty chill so I think that environment made it easier to have a great round and have fun."
The tournament is part of a series that culminates with the top-8 players from each flight qualifying for an end-of-the-year tournament at Pico Rivera GC. From being announced on the first tee to signing score cards after the round, Learn to Compete teaches the basics of tournament play while gaining experience competing against other talented golfers. In addition to learning the competitive nature of the game, the series also promotes learning the rules and etiquette of golf.
For results of Saturday's tournament click here.
To view and download photos from the event click here.