The SCGA Junior Golf Foundation is thrilled to announce its two annual awards to celebrate those who have made a tangible impact for local junior golfers and are dedicated to growing the game for the next generation.
The first award is the SCGA Junior Golf Foundation's John Argue Founder's Award, which is given to an organization or individual that has made a significant contribution to the Foundation's mission.
This year, the award is given to one of the Foundation's most ardent supporters, Friends of Golf. Friends of Golf, which was founded by SCGA Hall of Fame member and golf legend Eddie Merrins, is a critical funder and partner to several organizations including college, high school and junior programs. Their support of the Foundation dates back more than ten years, but most critically was their seed funding in 2015 that helped launch the Player and Youth Development program. Now five years later, they continue to be an ongoing and impactful partner to the SCGA Junior Golf Foundation.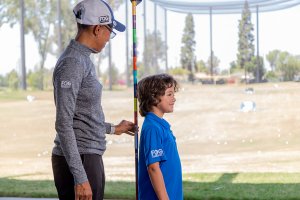 Through their support, the program, which was initially at one facility, in one community, has grown to six sites in three communities across Southern California and continues to grow and serve more and more youth. Last year, the Foundation served more than 1,600 juniors through the PYD program, with 77 percent being minority golfers and 37 percent being female golfers. With an emphasis on high-impact golf programming that focuses on positive youth development, juniors are being mentored by local coaches and role models and learning life lessons, all thanks to Friends of Golf and their belief in this effort.
John C. Hoffman, President of Friends of Golf, received the award on behalf of the organization.
"I would like to express our sincere appreciation to the SCGA Junior Golf Foundation for choosing FOG as this year's recipient of the Argue Award," Hoffman said. "Friends of Golf is so proud to partner with SCGA Junior in introducing golf and all that the great game has to offer to underserved youth."
This award was established to honor SCGA Foundation Founder and former SCGA President, John C. Argue. Mr. Argue, a leading civic figure in Southern California for several decades, was most notable for his efforts in bringing the 1984 Olympic Games to Los Angeles. Through the combination of his leadership and community commitment, proceeds from the 1983 PGA Championship established the SCGA Junior Golf Foundation. 
The second award is the SCGA Junior Golf Foundation President's Award. This award is given annually to an outstanding volunteer or SCGA club that significantly furthers the mission of the SCGA Junior Golf Foundation.
This year, the award is presented to long-time volunteer, Rebecca Ramirez.
Rebecca first got involved with the Foundation as a volunteer in 2014, when her son Phillip was a program participant at Pico Rivera GC. Paying it forward runs in the family, as Phillip is now a coach in the same community.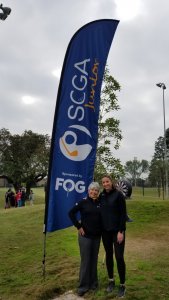 As a volunteer and member of the parent committee in our Southeast Los Angeles community, Rebecca tirelessly works on local fundraising projects. She most recently served as the chair of last year's helicopter ball drop fundraiser, which raised more than four thousand dollars for local programming.
She is an advocate for our program by recruiting new families and volunteers, spreading the word to community stakeholders and connecting us with local organizations and individuals. Ultimately, she has been the eyes, the ears, and the voice for the SCGA Junior Golf Foundation throughout our community.
"The game has given so many young people confidence, courage and respect," Ramirez said. "Going to the courses in our community has been so fulfilling and rewarding and I love to share the work that we do with everyone I talk to."
The work of both Friends of Golf and Rebecca has been critical to the Foundation's success for several years. Again, the Foundation expresses its gratitude for these long-time supporters and the belief they have in the Foundation's mission.
To see past award winners, please click here.