Without the ability to host its normal slate of fun, social golf activities for girls, the SCGA Junior Golf Foundation's two LPGA-USGA Girls Golf chapters have had to improvise. With sites in Southeast LA and the San Fernando Valley that normally meet once a month, the site directors decided to combine their resources to bring even more programming to girls in new ways.
Now meeting twice a month on Zoom, the virtual girls golf program has taken off, with the ability to help girls meet even more friends and connecting with girls across Southern California.
"Virtual programming has been great," Site Director and SCGA Junior instructor Teresa Thornton said. "The best part is seeing the girls having fun and connecting with each other. Letting them just be kids during this crazy time is what is what I hope we can offer them."
The virtual hangouts have ranged in theme from college golf night featuring SCGA Junior scholars, yoga night, trivia night and of course, a dance party.
"Anything that puts a smile on their faces, I'm all for it," Thornton said. "My favorite events so far have been show and tell and the dance party because you really get to know the girls."
Since March, there have been six hangouts reaching more than 120 girls over the past three months. The hangout is open to girls of all ages, so smaller groups are formed in Zoom breakout rooms where girls interact with their peers and do age-appropriate activities.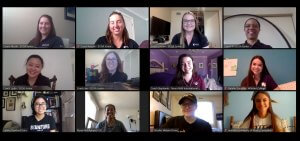 For example, for the college golf panel, groups were hosted by scholars from schools including Stanford, USC, Whittier College and more. With younger girls, the scholars talked about how they got involved in junior golf and the importance of doing well in school. With older girls, topics included time management, mental health and what to consider when choosing a university.
"I see myself as a role model for the next generation of golfers," said scholar Jennifer Queller who attends University of Illinois, Springfield, competes on the women's golf team and was a part of the college golf panel. "It's really fulfilling to know that I can offer advice and help girls make decisions throughout this process to help their future."
Fellow scholar Alyaa Abdulghany, an All-American golfer at USC has also participated in multiple hangouts and even helped host the yoga night along with her mom who is a certified yoga instructor. Together the pair led the group of girls through yoga exercises that Abdulghany has incorporated into her own fitness routine to help with her game.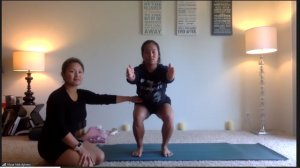 "The virtual yoga was really fun and relaxing," said Emma Kurata, a rising sophomore at Gahr High School who is a member of the Southeast LA leadership team.
Of course, everyone looks forward to the day when programming can be held at the course in a safe way. Thanks in part to these girls golf chapters, SCGA Junior's Player & Youth Development Program has a 37% female participation rate compared to the national average of 23% as reported by the National Golf Foundation. Within the program, nearly 90% of girls are nonwhite. This community allows girls to be themselves, feel comfortable and grow both as people and as golfers.
The virtual community is showing no signs of slowing down. With a full slate of events for the coming months, the program hopes to continue building momentum and offering events that help girls find their community, even though it looks a little different than normal.
"It's incredibly important to keep the game of golf alive right now," Queller said. "I'm glad that there are alternative ways for us to stay in touch with the girls."
If you would like to learn more about girls golf programming, attend a virtual hang out or get involved, please contact Jennifer Seislove here.