Catching up with the coaches in SCGA Junior's newest Player & Youth Development program is no small feat. With programming nearly everyday of the week, the Riverside community continues to grow as more and more juniors get out on the course. We sat down with three coaches from the Riverside community to hear about their favorite parts of being a coach, what being a role model means to them and more.
Christian Oster has been an SCGA Junior coach for nearly a year. He plays golf while attending school at El Camino Community College and was an SCGA Junior Golf Club member as a junior. Jonathon Curtis played golf socially for a few years before joining the SCGA Junior team. He is attending Chaffey College where he is studying political science. Kerry Valenzuela started playing golf in high school and hasn't looked back. He now attends Citrus College and still loves to play whenever he can.
What is your favorite part about being an SCGA Junior coach?
CO: My favorite part about being a coach is seeing the kids' faces when they understand what to do and they start seeing the results.
JC: My favorite part about being a coach is that I get to help our youth get better at a fun and rewarding sport.
KV: My favorite part about being an SCGA Junior coach is that I get to share my golf skills with kids that are just learning the sport.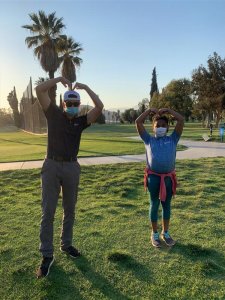 Do you see yourself as a role model to the juniors? If so, how does that make you feel?
CO: I do see myself as a role model because I've noticed sometimes the kids will mimic some of the things I do. It makes me happy to know that I'm making a positive impact on these kids' lives and that they want to come to class every week.
JC: I do see myself as a role model for the juniors. It makes me feel great and reminds me to be the best version of myself, since I am someone these juniors look up to.
KV: I also see myself as a role model and I strive to make learning the fundamentals of golf fun.


Are there any juniors in particular who you've bonded with since you started coaching?
CO: I have become pretty close with Adrian and John. They always bring the energy and have a way of sparking interest amongst the entire class.
JC: Yes, I have really bonded with Eldon and Jasper. Eldon is a very fun and smart kid and Jasper is a little one who is improving a lot and always has a big smile on his face.
KV: It has been fun getting to know all the juniors in our classes and seeing their improvements. And, they also always have something funny to say.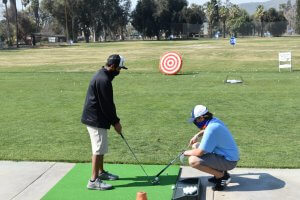 What's it like getting to coach and work alongside people who you are also friends with?
CO: It feels great to work alongside such great people who are as passionate about the sport as I am. It's a great feeling knowing that they have your back. It's great working with good people and friends you can trust and count on.
JC: Getting to coach and work alongside people I am friends with is very fun. SCGA Junior is the best work environment I have ever been around.
KV: It has been really fun working with other young coaches, and I have made some great friends who I frequently play golf with outside of work.
What's something you'd like to share with donors and other community members about the program – what you enjoy about it, what the kids enjoy, how it's making a difference?
CO: First off, thank you to everyone who has helped contribute and make this happen. I'm so lucky to be part of such a great organization that gives back to communities and is trying to grow community around the game we all love. I feel that we are creating a place that the kids can come and feel welcome, and they can let loose and have positive interactions. Especially through the pandemic, these kids have been stuck inside and I can't imagine how they have felt. It brings a smile to my face every day when I see them having a great time and making new friends because that is what will drive them to want to come back to class each week.
JC: This program is affordable and is really a no brainer for juniors. We have coaches who are great role models, we provide equipment that would normally cost parents hundreds of dollars and juniors even get to play on course and learn so much at such a young age. This program makes golf fun for everyone.
KV: The juniors have a lot of fun and they light up when they learn new skills. They are having a blast and gaining confidence along the way.