Golf is a special game for many, many reasons.
Peggy West, club president of the Associated Women Golfers of Annandale rattled off several reasons why she loves the game.
It's social.
It's a game you can play your whole life.
It teaches integrity, sportsmanship, camaraderie and flexibility.
For her, the game also provides a connection with a younger generation. Through the club's support of the SCGA Junior Golf Foundation, West knows her support is funding opportunities for girls that she may not have had at their age.
"I started at age 50 and I wish I had started younger," West said. "We didn't have a lot of choices for what we wanted to do, as women, in life. The horizons for this generation are so wide. Girls can do anything."
And that includes playing golf. The AWGA is one of several women's clubs that supports the girls golf programming that the Foundation offers. The AWGA was a long-time supporter of the Women's Southern California Golf Association and wanted to continue their support of girls golf after the unification.
With girls-specific classes, two LPGA-USGA Girls Golf chapters, connections with female role models and scholarships, the SCGA Junior Golf Foundation is committed to growing the girls game and additional opportunities through the game.
For scholar Natalia Gonzalez, this comes in the form of community and a college scholarship. Gonzalez grew up in the Coachella Valley and started golfing with her dad at the age of four.
"Where I come from, there's not a lot of people who look like me that golf," said Gonzalez, now a senior studying political science at UCLA.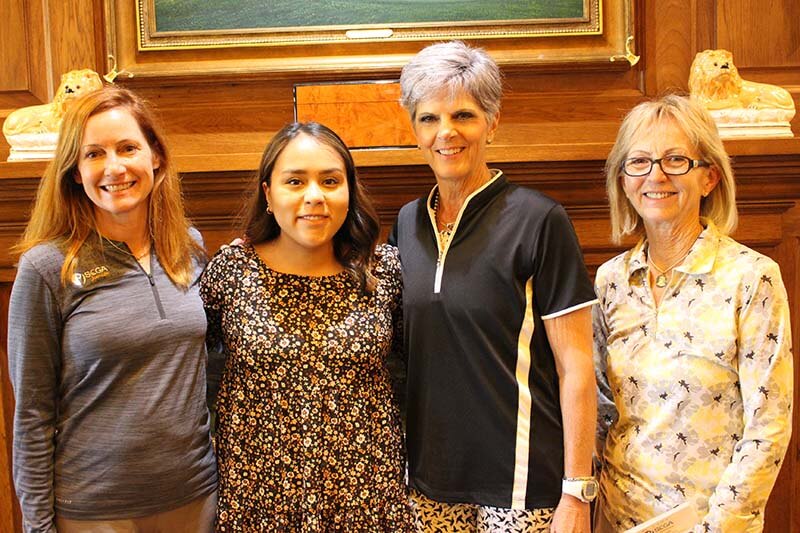 Gonzalez recently spoke at a luncheon at Annandale CC where the club presented the Foundation with a check for more than $3,000. Gonzalez reflected on the impact the club's support has had for her and so many other young ladies.
"I didn't get a lot of costs covered by other scholarships, so I'm really thankful for this financial support," Gonzalez said. "The scholarship has taken a burden off not only me, but also my family."
For the ladies at Annandale, having Gonzalez on-site was a wonderful way to see first-hand the impact of their support. With enough support from additional clubs, the Foundation plans to create the Deb Long Scholarship Endowment to support girls like Natalia as they follow their dreams on and beyond the course and as a way to pay homage to the late golfer and advocate.
"Deb's support for girls in this game was fantastic," West said. "She put a mark on this sport and we are so honored and excited to be giving young women the resources to reach great heights themselves."
If you would like to learn more about how your club can give to the Deb Long endowment or support girls golf in other ways, please click here to email Director of Development Jennifer Seislove.