Like so many other SCGA Junior participants, golf has become more than just a game for Jakeishya Le. For the Golf Pass member, turned volunteer, turned scholar though, she's taken it to a new level.
Now working as a Program Coordinator for SCGA Junior, Le has taken the skills that she developed as a golfer and turned them into a career. Le is specifically focused on SCGA Junior's expansion of its Player & Youth Development Program into Riverside, a community that Le is especially familiar with and fond of.
Le, who started golfing at the spry young age of 7, became a Golf Pass member and used it to hone her craft. Through $1-$5 range and green fees, Le was able to play as much as she wanted.
"Golf isn't an affordable sport, but the Golf Pass made it one and that meant that I could go out and get better and follow my dreams," Le said.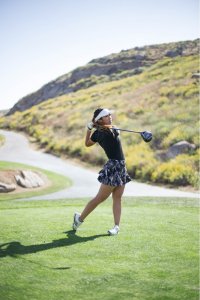 Those dreams included playing collegiate golf. Le landed at UC Riverside, where she competed for the golf team. Along the way she also earned a scholarship from SCGA Junior, which was in part because of her dedication to giving back as a volunteer.
"Volunteering was a lot of fun and I loved the opportunity to do that because the kids would get so excited to be out with their friends and have so much energy and excitement when they hit a good shot," Le said. "That's what's so special about SCGA Junior, is seeing that emotion in kids who have a love for the game, which I do, too."
Despite the balancing act of playing Division I golf and being a full-time student studying psychology, Le still found time to give back to the game she loves. Le continued attending SCGA Junior events as a volunteer and participated in fundraisers. She was also invited to a series of special events, Mentor Play Days, in which juniors are paired with mentors for a round of golf, some of which are at the Southland's most exclusive courses.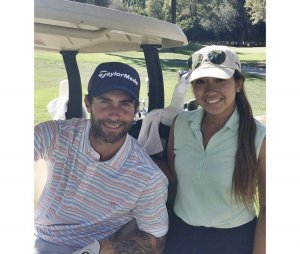 "Growing up, I was used to playing 9-hole muni courses," Le said. "Getting to play these exclusive courses like The Los Angeles CC and El Caballero CC were experiences I never would have had without SCGA Junior."
Le didn't just give back to SCGA Junior, though. She also became an involved member of the Riverside community. When she wasn't studying or practicing, Le found time to volunteer with the Special Olympics in the golf program when they were training in Riverside.
Le has seen the direct impact that golf has had for her and others, so she's even more excited for the next chapter in golf journey, which will allow her to teach the game to the next generation of golfers and continue fostering a love for the sport.
"It's a really unique and special opportunity," Le said. "I'm really grateful to SCGA Junior for this opportunity and for all the other opportunities they've already given me. This job isn't like a normal job. You're able to be in the field and directly working with juniors, seeing them grow and develop in golf, but also in their personal lives."
Le is especially excited to be helping in the first phase of SCGA Junior's programming in Riverside.
"Having been in Riverside for the past four years, I haven't seen a lot of junior golf programs in the area," Le said. "Bringing our program in is really special because Riverside is already a great community, and so is golf, so I'm excited to see the two grow together with our program."
For juniors of all backgrounds, regardless of socioeconomic status, SCGA Junior provides a place for them in junior golf. It's something Le believes in because she lived it herself.
"I wouldn't be where I am today without SCGA Junior because of all the opportunities it's given me growing up to even play the game of golf," Le said. "That wouldn't have been possible without the Golf Pass and the college scholarship, which helped me follow my dreams."