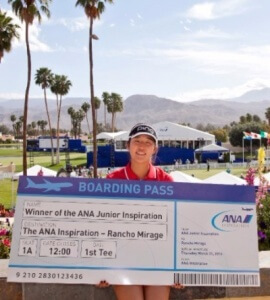 The ANA Junior Inspiration, one of golf's most special and unique events that sends its winner into the LPGA's ANA Inspiration field, has crowned its fifth champion. After shooting a bogey-free round of 5-under par 67, 17-year-old Andrea Lee of Hermosa Beach was all smiles as she tapped in for par on the 18th hole of the Palmer Course at Mission Hills CC, knowing she had secured the final spot in this week's LPGA major.
"To be a part of the [ANA Inspiration] field and be able to compete against the pros, I'm really excited to have that opportunity and am really looking forward to this week," said Andrea. "I really wanted to make it this year. I can't wait."
Andrea was the only player in the 39-person junior field who had also competed in the first-ever ANA Junior Inspiration five years ago, an event that was won by now LPGA Tour Player Alison Lee. In fact, Andrea has earned a spot in the ANA Junior Inspiration field four of the last five years, skipping last year's event only because she earned a sponsor's exemption straight into the ANA Inspiration field, where she failed to make the cut.
"Last year in the second round I got caught up a little too much in the score," said Andrea, a senior at Mira Costa High School who has committed to play her college golf at Stanford next year. "This year I'm just going to go in and try to have fun, play one shot at a time and see what happens."
In addition to giving one junior the opportunity of a lifetime by sending them into an LPGA major, the ANA Junior Inspiration also allows each girl to be grouped with an LPGA legend for an inspirational round of golf. Thirteen of the most decorated female golfers of all time coach and mentor the juniors throughout the round, a priceless experience that is not lost on the girls.
"To be able to have the chance to be paired up with the hall of famers of professional golf is really amazing," said Andrea. "For them to take the time to play with us is really incredible. I played with Pat Bradley today and she kept me calm throughout the round, just really kept me positive."
And for the legends, it's really a chance for them to see the future of the game they love so much.
"It was amazing out there today," said Bradley, a member of the World Golf Hall of Fame and the 1986 winner of the ANA Inspiration. "And Andrea is really something. She's the whole package."
Andrea's winning score of 67 matched the ANA Junior Inspiration's top score, with a 5-under par round having been the winning number three of the event's five years. Andrea never looked shaky throughout her round, collecting two early birdies on holes four and five to take the early lead. She would never look back, playing without a blemish the rest of the way through, including ending her round with a chance for eagle just off the 18th green.
"I had really no mistakes today," said Andrea, who last summer won the inaugural Women's Southern California Amateur Championship. "When the birdie opportunities came I took them. I just played really well, was confident with my iron shots, and it all went really well."
Also turning in an under-par round was 15-year-old Elizabeth Wang, one of the event's youngest participants. Despite windy conditions, Elizabeth also collected five birdies on the day, but also recorded three bogeys. Elizabeth and Andrea were the only two girls in the field to shoot rounds under par.
Andrea would go on to shoot rounds of 76, 74 to miss the cut at the ANA Inspiration.