With the perfectly manicured Augusta National grass beneath his feet, SCGA Junior member Evan Chien graced the same lush fairways as Woods, Nicklaus and Palmer with adolescent exuberance. Evan had found heaven on earth.
His introduction to life inside the ropes came via the Drive, Chip & Putt Championship, and can be credited to hard work, evidenced by his 116 uses of the Golf Pass.
Evan qualified for the opportunity to compete at the site of each year's Masters by going through three stages of qualifying in Southern California. Competing toe-to-toe with the area's best at Wood Ranch GC, Angeles National GC and finally the famed Riviera CC, Chien came out on top each time, earning himself an invite to Augusta.
As the 13 year-old from Irvine walked onto the property, knowing he had earned this privilege, Evan could feel something in the air.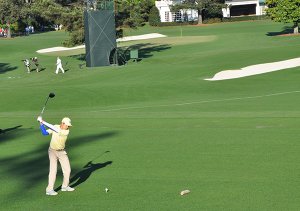 "It just felt really special," said Evan. "I knew I was one of the few that was able to be there so I tried to take in the whole venue and atmosphere."
The Chiens were making their second appearance in as many years, accompanying Evan's sister Leigh last year after she qualified for the Girls division herself.
"The second time around didn't numb any of the atmosphere," said Evan's father Wayne. "To be invited back, thanks to another of my children, is pretty surreal."
With his entire family in tow, including Evan's mother leading the way as group chaperone, the Chiens roamed like cagey veterans and Evan spread his social butterfly wings.
"I made a lot of friends from all around the nation," said Evan. "I got to know them pretty well. I hope to run into them down the line somewhere."
After making a new crop of friends, Evan focused on the task at hand. The final sessions of the championship were broadcast live on Golf Channel, something Evan was very aware of.
"Being on TV was obviously the best part," said Evan. "I had a lot of people back home watching me. All my family and golf buddies were cheering me on."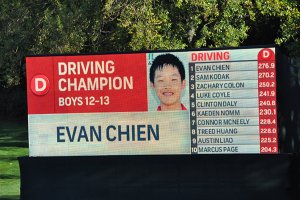 Under the bright lights and the broadcast pressure, Evan performed. The budding star finished T-4 in his age group, winning the Drive portion with a perfect score of '10'.
"My driver felt good, even though I was super nervous," said Evan. "Playing a tournament, you have a full round to put together a score, but here you only get six shots. I'm proud of the drive I hit under pressure."
Evan came, he saw and he almost conquered.
"It's really motivating to know I can compete with all these people," said Evan. "I'm just going to work harder to beat them eventually. I want to come back."