If you're involved with SCGA Junior, you've seen Shani Waite's smiling face. You've either seen it on scgajunior.org, on a poster, on a brochure or in person at a golf course, where the Mira Costa High School freshmen spends much of her time. For more than five years now, Shani has been one of the most actively involved members of SCGA Junior, and the engagement has given her myriad of opportunities. She's taken advantage and her golf game has reached new heights.
Shani joined a Mira Costa High School team this Fall that was going through, as a professional sports team would call it, a rebuilding phase. A year ago, Mira Costa was on top of the world, winning a State Championship and putting together one of the finest high school golf seasons the school ever had. They did so, however, with four starting seniors, including Andrea Lee, who is currently ranked No. 10 in the World Amateur Golf Rankings.
Losing two-thirds of its starting team, Mira Costa was looking for a new star. And despite being just a 14-year-old freshman, Shani came through in a big way as her performance was rewarded with a Rookie of the Year award. She also stepped up in Mira Costa's biggest match of the season, shooting a 3-under par 32 in the Mustangs' 198-206 win over Peninsula, helping Mira Costa clinch the outright Bay League championship.
"I couldn't have asked for anything better out of the season," said Shani. "I was really happy with my performance, and I created great friendships with the girls on my team. We all supported each other."
For Shani, a sport that for years had been an individual one now had the appeal of a team.
"It helps to have others doing the same things you are," said Shani. "I was used to going to practice by myself, but when I would practice with girls on my team, I would learn new and different drills to do. It helps advance your game."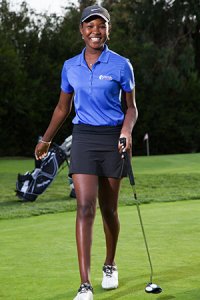 Shani's game came to life when she was 9 years old. Joining SCGA Junior gave her access to the Golf Pass, making playing and practicing more affordable, and competing in SCPGA Junior Tour events helped her stack her game against other kids. Last year, her game made a huge leap forward when she qualified for the PGA Junior Championship at Wannamoisett CC in Rhode Island.
"That was by far the biggest event I've ever qualified for," said Shani.
Despite finishing towards the bottom of the leaderboard, the experience helped prepare Shani for high school golf and she arrived ready to play. In her first match, Shani shot a 34, the second-best score on her team, helping Mira Costa pick up an early-season victory.
It's no surprise Shani shined on the high school stage, as the young golfer has already experienced pressure-packed situations. As part of her deep involvement with SCGA Junior, Shani has received various opportunities to interact with some of the biggest stars in the game, including the chance to interview Phil Mickelson.
"That was definitely a highlight!" said Shani.
When Friends of Golf (FOG), a partner and large donor of SCGA Junior, was looking for a young golfer to interview the future hall of famer in front of a packed house at their annual tournament, they asked SCGA Junior for help finding the right kid.
"Right away we thought of Shani," said Jennifer Seislove, SCGA Junior program director. "For years Shani has been involved in many aspects of our program, including volunteering her time and giving back at various fundraising events. Her passion for golf and SCGA Junior made her an obvious choice."
Shani took advantage of the opportunity, sounding poised and wise beyond her years up on stage for the one-on-one interview, wowing the audience and executives at FOG.
The relationships with SCGA Junior and FOG flourished, and Shani also received the opportunity to participate in a small clinic led by Butch Harmon, longtime instructor of Tiger Woods and Rickie Fowler, at a similar FOG event.
"That was incredible, to have someone like Mr. Harmon examine my swing and provide advice," said Shani. "We keep in touch to this day."
And along with advancing her golf game, the involvement with SCGA Junior has provided Shani with academic and career opportunities as well.
"I've participated in a number of SCGA Junior Play Days, where we are paired up with mentors for a round of golf at a private golf club," said Shani. "During the outings these mentors give me info on their college experience and career options. I have built great friendships with those members and it's opened my eyes to possibilities for fantastic careers outside of golf."