When recent grad and SCGA Foundation Scholar and Golf Pass program alum Alyaa Abdulghany was in elementary school, her family moved to Southern California after a couple years in San Francisco and before that, Malaysia. Having grown up locally playing competitive junior tours and after four years competing at USC, Abdulghany has realized there's something more important than the number on her scorecard that motivates her.
"I want women's golf to be more inclusive," she said. "We're seeing a great first step with so many girls getting involved, but there are so many unused scholarships, whether someone is using it to one day play professionally or using it to go to a great college. That would be a great dream of mine."
Throughout her collegiate years, Abdulghany made it a priority to continue giving back to girls golf through SCGA Junior programs, which is saying something given the schedule of such an accomplished Division I athlete. Abdulghany is a two-time All-American, two-time All-Pac-12 honoree, two-time Augusta National Women's Amateur participant, U.S. Women's Amateur semifinalist and SCGA Women's Amateur Champion. The list could go on.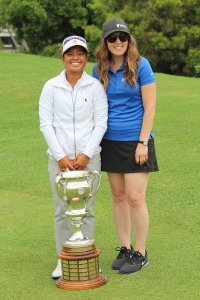 "It's been incredible over the past eight years to watch Alyaa evolve from a young golfer who was learning from and playing alongside our program mentors to someone who has become that mentor herself," Operations and Development Director Jennifer Seislove, who oversees the Foundation's scholarship program. "For someone who has been balancing school and competitive golf, she has never turned down an opportunity to volunteer and give back to youth in our programs."
When she was just a junior golfer herself, Abdulghany was a frequent user of the SCGA Junior Golf Pass, which give juniors $1-$5 range and course access. She credits the Golf Pass with helping get her game where it needed to be as a junior.
"I used the Golf Pass so much," Abdulghany said. "Whenever I wanted to play a practice round before a tournament it helped me get on courses that I wouldn't normally play. Having the opportunity to play is such a huge thing and it was such a great chance for me to hone my game when I was younger."
Though she was an accomplished golfer from a young age, Abdulghany realized that there was a paucity of role models for young girls who golfed. She gives back now because she wants other girls to have better opportunities than she did.
"I've never had a person to look up to, and I'm not saying that I am for these girls, but I want to give back to the community and give them opportunities that I never had," she said. "I want everyone to have the chance and have as many options as possible so they can have the best future."
Though she might not realize it, Abdulghany is absolutely a role model for local girls.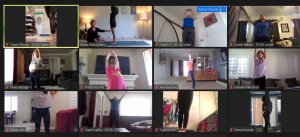 "One of my favorite Girls Golf events was when I met Alyaa from USC, which was really cool," said Isabella Mendoza. Mendoza is a frequent attendee of Girls Golf Southeast LA events and is almost always wearing USC clothing. And for Abdulghany, those moments are what make her work with the juniors all make sense.
"It puts a smile on my face, and I'm so happy to be a figure that Isabella can look up to," Abdulghany said. "Being able to help these girls puts a big smile on my face."
As she works to be a role model that all girls can look up to, Abdulghany also enjoys SCGA Junior's girls golf programming because she sees how it is helping make golf more inclusive. In addition to girls-only instruction classes, SCGA Junior also operates three LPGA*USGA Girls Golf chapters. Monthly girls golf outings combine golf activities with a social or educational component to create an atmosphere that fosters community and makes golf fun.
"This girls golf programming absolutely promotes a more inclusive environment," Abdulghany said. "When I'm here listening to the conversations, seeing who's involved and seeing how young the girls are who are getting this message, it's great to see SCGA Junior reaching out and giving girls that opportunity."
One of the key components of Girls Golf programming is connecting girls with local role models. Something that is so much easier when someone like Abdulghany looks forward to helping out.
"Alyaa really values the opportunities she's been given and knows the importance of paying it forward," Seislove said.
On the competitive side, one of Abdulghany's favorite events is also one that is helping move golf forward: the Augusta National Women's Amateur.
"When I heard the news about this event, I was so excited; it's just so wonderful," Abdulghany said. "It shows that people within golf are making an effort to showcase women's talent, and give women the same opportunities as men. There's a huge gap between PGA and LPGA in salary, gallery size, quality and type of courses, I could go on, but this is one step in the right direction.
For Abdulghany, no matter where her future competitive career takes her, growing the game and being a role model for girls is staying at the top of the priority list.
"We have to keep moving forward. This can't be the end of the effort."