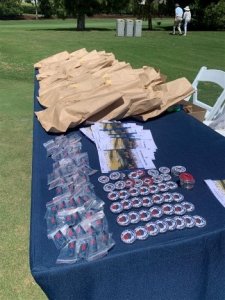 The SCGA Junior Golf Foundation held its Junior Takeover at the 123rd U.S. Women's Amateur Championship on Saturday, August 12 at Bel Air Country Club. Each of the first 60 registered juniors were treated to a goodie bag containing a FOG hat, sunglasses, a meal voucher, a souvenir U.S. Women's Amateur ball marker, an autograph book and a USGA pin. These thoughtfully curated gifts provided the juniors with keepsakes that will remind them of their impactful and fun experience at the U.S. Women's Am semifinals.
In the initial grouping, the spotlight shone on Latanna Stone, a seasoned fifth-year student at LSU, who was pitted against Rachel Heck, a distinguished senior from Stanford University. The second group showcased the talents of Hailey Borja, a fifth-year competitor from the University of Michigan, and Megan Schofill, also in her fifth year, representing Auburn University. An enchanting moment materialized on the first hole, when the gracious Borja took time to sign autograph books for an enthusiastic gathering of junior girls, sparking waves of excitement and joy.
As the day drew to a close, Heck ultimately fell short in her match against Stone. Similarly, Borja's efforts were not enough to secure victory, as she was narrowly defeated by Schofill.
Following Saturday's matches, excitement lingered in anticipation of Sunday's final matchup, which would pit sixth-ranked Schofill against the 45th-ranked Stone. Our juniors' enthusiastic and steadfast support for the competitors made for a warm backdrop as they devotedly followed the matches from hole to hole. The juniors showed unwavering exuberance, fully immersing themselves in the competitive semifinal matches.