What drew Brian Lindley to golf is the same thing that appeals to many young people – you can hit the ball really far.
Now a retired aerospace engineer, as a child Lindley experienced everything the game has to offer – from competition, to summer jobs, life lessons and everything in between.
"Golf can be a central theme that can affect many other areas of a young person's life," Lindley said. "That appeals to me because it has shaped so many things that have happened to me and the experiences I've had."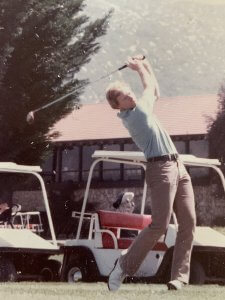 Lindley picked up golf at a young age and developed a passion, and skill, that allowed him to play at USC. He played in a handful of SCGA championships, including the 1975 SCGA Amateur Championship at Wilshire CC, before trying his hand at a professional golf career. He even spent one summer working for a man who retrieved golf balls out of lakes.
Having received so much from the game of golf, Lindley decided it was time to give back. Lindley is a Change Maker, a donor who gives an automatic, monthly gift in support of the Foundation.
"This is a multi-dimensional charity," Lindley said. "As opposed to other choices to contribute money, the fact that golf can spread and affect many aspects of people lives just by starting with this one thing means my dollars are going farther."
The Foundation's programming has been proven to have a positive effect on the social, emotional, relationship and cognitive-behavioral skills of a child in research with the Claremont Graduate University. And that's in addition to increasing their golf skill.
What starts with golf leads to so much more.
The Foundation champions affordable access through its Golf Pass, with $1-$5 green and range fees at more than 150 SoCal courses, so that all juniors can afford to play the sport. In high-impact instructional classes through the Player & Youth Development program, the Foundation intentionally works with underserved communities to increase diversity and equity within the game. This program connects kids with coaches who are local role models, often program alumni. The Foundation's support doesn't end when a kid packs up their clubs though, through the scholarship program, $165,000 is awarded annually to young adults pursuing their dreams through higher education.
Lindley gets it. That's why he supports the Foundation.
"Leveraging golf to other parts of life can lead to so many other things, even outside of and beyond golf," he said.
Being a Change Maker is easy for Lindley. With the automatic payment, there's no worry that he'll forget to make his gift, and since he knows he's giving a certain amount every year, a monthly gift gives the Foundation a constant stream of revenue.
"I can't think of a better place to put some of your money than into the Foundation if golf has had a positive impact on your life," Lindley said. "Imagine the impact golf can have on someone who hasn't had the same advantages and opportunities as we have."
At the end of the day, it's the same game everybody is playing. And it's easy to fall in love with it when you're given a chance to hit the ball… really far.
If you'd like to join Brian as a Change Maker for as little as $9 a month, click here.