The Genesis Open isn't just another stop on the PGA TOUR calendar. It doubles as an opportunity to expose hundreds of kids to the game of golf at the highest level and give them a new experience through the Tee Off For Youth program. At the 2019 Genesis Open, SCGA Junior partnered with Tee Off For Youth to bring over 70 kids to the tournament.
During the free event, kids were welcomed at the gates of Riviera CC by Genesis Open and TGR Foundation staff and received goodie bags filled with merchandise. The highlight of the day was an exhibition featuring trick shot artist Joshua Kelly and a Q&A session with PGA TOUR professional Peter Malnati.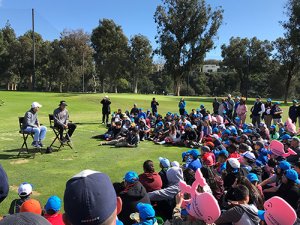 "It's such a great time to be working to broaden the reach of the game because we have these young, dynamic pros that kids can really relate to and connect with," said Genesis Open general manager Dave Klewan.
Malnati gave advice about his time as a junior including his practice habits and reminisced about how he started playing.
The groups also experienced the family village where they explored the intersection of STEM and golf with the TGR Learning Lab, mini golf, exclusive viewing areas for the tournament and of course a complimentary lunch.
"Being a part of the community is so important to us and to our donors," Klewan said. "That's why we not only keep doing this program but continue to grow and expand what we offer."
Tee Off For Youth is in it its third year and has more than doubled participation since its first year. In 2019, they hosted over 700 students from 15 different groups that work with kids in underserved communities.
"We love to host SCGA Junior because we not only support what you do, but can tell that the kids you bring out are having such a good time," Klewan said. "We share an ongoing dedicated commitment to the sport and underserved communities."
For the SCGA Junior participants, the whole day was a source of inspiration.
"I think it really inspired them to become more involved with the game," said program manager Bryan Stauffer. "They saw that the game is really no different for professionals and juniors. The crowds may be bigger, the golf may be televised, but in the end, this is the same game they play at their home course."