"The biggest thing that golf has taught me is resiliency to get past the difficult because anything can happen."
For SCGA Junior scholar Calista Reyes, a sophomore playing golf at Stanford, she doesn't just talk the talk, she also walks the walk.
Reyes sat down to talk about what golf meant to her, life as a student-athlete at Stanford and share some of her favorite memories as a Cardinal after what turned out to be one of the most difficult rounds in her career.
She came off the course after her second round in the Northrop Grumman Regional Challenge at Palos Verdes GC. Her parents who live in San Diego were on-site for one of the few local tournaments that Stanford plays. Reyes shot a very respectable 74, but while she was at the scorers' table, noticed that her score from the day before on the scoreboard was one stroke lower than what she actually shot.
The previous day's round had finished well after dark and Reyes signed her card in the darkness, without checking it closely. But signing for an incorrect score leads to an automatic disqualification of that round. Her integrity cost her that round, but her resiliency helped her keep going.
Reyes completed her interview, accepted her penalty with grace and came back the next day and shot 75.
Like she said, anything can happen in golf.
"Another lesson learned from golf," Reyes said after the round. "You always have to be ready to bounce back up because you don't have time to waste."
For Reyes, who was born in the Philippines, but grew up in San Diego, she's been filled, for the most part, with overwhelming joy during her time at Stanford and she is very gracious about the fact that she wouldn't be there without SCGA Junior.
Starting out with a Golf Pass membership, Reyes was able to access more than 150 courses in Southern California for $5 or less.
"I was trying to play a lot of tournaments and they are already so expensive but a lot of them were at Golf Pass facilities that we had discounted access to so I could practice easily," Reyes said. "It just encouraged me to play more and gave me the ability to do so."
Though her sophomore season came to a grinding halt due to the COVID-19 pandemic, the highlight of her collegiate career came in the fall when she qualified for Stanford's final spot in the Pac-12 Preview in Hawaii.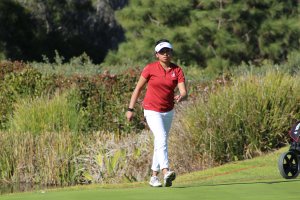 And if balancing golf and school (at Stanford no less) wasn't enough for Reyes, she said she really wanted to 'challenge herself academically' and intends to declare Management, Science and Engineering as her major.
According to Reyes, the major is a combination of a traditional business and computer science majors with an emphasis on applying these skills to Silicon Valley. It also has a health care policy emphasis, which is one of Reyes' passions.
She's taking her first computer science class this year alongside several of her teammates and credits them with a lot of her success in the classroom.
"It helps that I have such a solid team behind me in the classroom who share their experiences and lessons from what they've learned during their time at Stanford so far," Reyes said. "We always code together."
Needless to say, Reyes is making the most of her time at Stanford. But she still finds time to give back to the next generation of engineers, scholars and golfers as a volunteer at SCGA Junior events. She's also been invited to participate in events at several high-end courses including the Foundation Cup and Mentor Play Days.
"SCGA Junior has given me, and so many other golfers, the opportunities to play more and play really nice courses that I wouldn't be able to otherwise," Reyes said. "SCGA Junior has been such a blessing for me and my family."