Giving back to the game is always personal. But for Change Makers Marco and Rosie Gonzalez, their personal connection to the SCGA Junior Golf Foundation goes a step further than most. The Gonzalez family was first introduced to the Foundation more than 10 years ago, when their daughters Stephanie and Natalie first got involved.
Now, with one daughter a full-time employee, and one a scholarship recipient they've been Change Makers for three years and have no intention of slowing down.
"It's important for us to give our monthly donation so we can make sure other kids will have the same or better opportunities than our kids had," Marco said. "We give back because we've seen first-hand the benefits of the program. We want to give the same opportunities to other families that were given to us."
The Gonzalez girls initially got involved because of the affordable local access that allowed them to practice and play daily for $5 or less. As they continued to get more involved, the benefits began to multiply.
The girls were selected because of their character and dedication to the game to participate in Mentor Play Days, invitation-only events where juniors play exclusive courses and spend a day networking with a mentor.
"So many kids in our community don't know what's outside of Norwalk, or South Park or wherever they live, but this opens their eyes and allows them to think, 'I can be somebody and I can do something with my life,' and I know that because it happened to my girls," Marco said.
If you'd like to make an impact for junior golfers by becoming a Change Maker, click here.
Both Stephanie and Natalie earned college scholarships and played golf at their respective universities: Texas A&M International University and Whittier College. The scholarship allowed them to attend the schools they wanted to, not just the schools they could have otherwise afforded.
"Because of SCGA Junior my kids had the opportunity to attend college, become better golfers and become better individual people," Marco said. "It was a great financial help. They still would have gone to college, but because of the scholarship, Stephanie was able to go out of state and Natalie was able to attend a private school, which we wouldn't have been able to afford."
The Gonzalez family takes every chance they get to express their gratitude.
"Oh my gosh, golf and SCGA Junior have meant just about everything to us," Rosie said. "We're so grateful for this sport."
Together, they have frequented SCGA Junior events as participants, volunteers and employees. They've fundraised in annual events, they've advocated in the community and they've never stopped giving back.
Stephanie was recently hired to continue teaching golf and working in the same community where she grew up.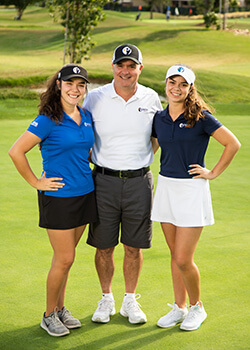 "SCGA Junior has helped me so much financially and professionally," Stephanie said. "I became a scholar and it helped not only myself, but my whole family. I also got my first 'big girl job' with SCGA Junior."
Natalie continues to work part-time as a coach and mentor while she's in school, frequently attending girls-specific outings and leading on-course playing opportunities for all juniors.
"SCGA Junior has helped me so much socially," Natalie said. "I was so shy and quiet when I was younger. I would keep to myself and hide behind Steph whenever we were golfing. This program has helped me come out of my comfort zone. Especially when I'm teaching little kids, where I have to talk a lot and talk with their parents."
Like his daughters, Marco loves being out in the field volunteering with junior golfers on top of his monthly donation.
"It just makes me feel great that I can see the growth of the kids when I volunteer," Marco said. "There's nothing else I'd rather be doing than being out here with the kids making sure things run smoothly, and they are safe while they are out enjoying the game."
But of course, he knows that his donation helps pay the bills. Even a small contribution made monthly, adds up and Marco knows, it changes lives.
"Without the monthly donation of Change Makers, this program wouldn't be as successful as it is right now," Marco said. "You can tell by looking at where the kids who have been in this program have gone; it enhances their golf skills but also their life skills."
If you'd like to join Marco and Rosie as Change Makers and make a difference for junior golfers, click here.