A lesson of a lifetime (and a chance to miss school for a day) gave a pair of standout SCGA Junior members a chance to learn from the best.
At a Friends of Golf tournament held at historic Riviera Country Club in late September, longtime friends Nataliya Laciste and Josiah Joseph swung together under the spotlight as co-students of a 40-minute lesson from former CBS Sports commentator Peter Kostis, long regarded among the country's top instructors.
"I'm not quite sure about the number of people, but definitely in the hundreds, maybe even more. A lot of people. It was amazing," says the 15-year-old Joseph, an SCGA Junior member since the age of seven.
Laciste, 14-years-old and an SCGA Junior member for seven years, was also well-aware of the driving range gallery.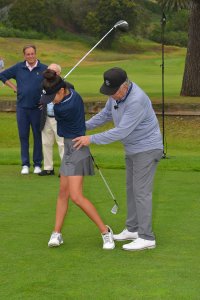 "I didn't really want to check, because that would have made me nervous; but it was about three rows of people, so kind of scary," laughs Laciste. "When I was taking my first swings, my hands were a bit shaky, not wanting to shank one in front of that many people."

Under the direction of Kostis, shots askew were few for the impressive duo.

"I've been hitting my balls a bit to the right, so Mr. Kostis gave me some drills to help close my clubface," Laciste details. "He was helping me getting my feet a little closer together, and then cocking my wrists in the backswing. When he was talking to me, I was thinking, 'Yeah, I can see why he's one of the greatest instructors ever.' He's very friendly and also very patient. And the tips were great; I've been using them ever since in my own practice time."

While Kostis worked with Laciste on her 7-iron and pitching wedge, his attentions toward Joseph were focused on driver.

"He's an incredible teacher; I mean, he'd never seen me swing before, so to see me for the first time and be able to work on so many things with my swing and stance was amazing," Joseph says. "We mostly worked on my head position. For me, my head was tilted back with the driver, because my left, front shoulder was tilted upward to give me that upwards angle. But he helped me get squared, to give me a bit lower trajectory and more distance."

Both with aspirations of playing college golf, Laciste and Joseph credit SCGA Junior for contributing to their young lives beyond the fairways of play.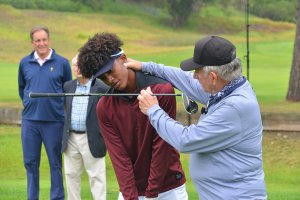 "SCGA Junior has really help me socialize; everybody is so friendly, so supportive and the coaches haves really helped me get better with my game," says Laciste. "It just makes it fun to play golf."
From lesson tee to teeing-up core values, Joseph agrees with his longtime friend.
"Other than my family and friends, SCGA Junior has been the best thing on my life," says Joseph. "It's not just golf, because the Foundation has helped me with the social aspect of life, from having a good attitude, to taking responsibility to having strong discipline. For all the things that SCGA Junior has taught me about being a good person, I hope that one day when I'm successful, I can help give back to the organization."
Following the lesson with Kostis and opportunity to participate in the FOG tourney, the day presented a final highlight on the scorecard.
"After the tournament there was a dinner, and Peter Kostis and Jim Nantz, who was also there, were saying what an honor it was to meet me," concludes Laciste. "And I was like, 'What?! I should be saying this to you!"