For most youth golfers, the dream of playing on the PGA TOUR is just that – a dream. But that doesn't mean that making a living off the game is unattainable. At the Careers in Golf Seminar, SCGA Junior and the TGR Foundation welcomed kids to a unique career day where they learned from professionals about their careers in the golf industry.
For many of the participants, their interaction with the game has just been playing, and this experience was eye-opening to introduce them to other opportunities.
"When you look at golf, you don't always know what opportunities there are outside of just playing the game," said Emma Varshochi, who attended the event. "If you're not good enough to play professionally, you can still be around the game."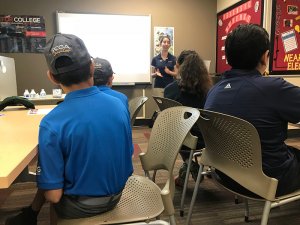 The day opened with a welcome from Andy Thuney, PGA, who discussed how he began his career as a range ball picker, worked his way up to PGA section board member and now has settled back into teaching the game. He advised the kids that you never know where your career will take you, and that the first opportunity will lead to something bigger and better.
"Make relationships and treat others as you would like to be treated, and the rest will work out for you," Thuney said.
He was joined by former LPGA player Candie Kung who advised participants to take advantage of the resources that are off the course, so that no matter when your playing career comes to an end, or even if it never begins, you're ready to take the next step.
"My best advice would be to always work hard. I'm a product of hard work paying off," Kung said. "Make sure that you love what you do, and the work will be better."
Breakout sessions were hosted by Matthew Mora, a club fitter, Brian Valdez, a graphic designer and Sharon Don and Hailey Tucker who work in communications and marketing. These sessions were designed to give participants a behind-the-scenes look at careers that are in the industry, just off the course.
By the end of the day, participants were sharing fun facts about the presenters and the things that they found interesting from each career opportunity.
The Careers in Golf Seminar is part of SCGA Junior's Educational Outing program. If there's an experience that you'd like to see SCGA Junior offer, please email Jennifer Seislove here.