With safe and affordable recreational opportunities for kids being few and far between as the COVID-19 pandemic continues, SCGA Junior Golf Foundation was able to provide a unique program for junior golfers in Riverside.
Through a two-week clinic series that was hosted in conjunction with the City of Riverside Parks and Recreation department, the Foundation offered free golf clinics with its certified instructors to more than 100 local juniors. The classes were open to juniors ages 5-17 of all ability levels, with many participants stepping foot on a golf course for the first time.
One such participant, five-year-old Samaira was hooked after swinging a club for the first time.
"I love golfing," Samaira said. "I like golf more than basketball because golfing is more fun and in basketball the baskets are too tall for me."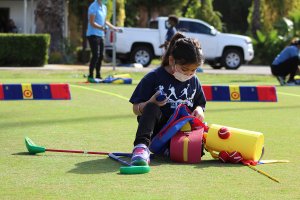 The class provided an especially exciting opportunity for 5-7-year-olds like Samaira. Through the City of Riverside's CARES Act grant, each participant received their own set of SNAG equipment including: two clubs, three balls, a launch pad (aka a tee), a flagstick and a bag. SNAG, which stands for Starting New At Golf, is specially designed equipment for the youngest golfers to ensure they start out in the game with a positive and fun experience. Between the free clinics and free equipment for these golfers, the economic burden of the sport was greatly reduced.
"It was great seeing so many new golfers introduced to the sport through our clinics," said Program Manager Bryan Stauffer. "It was amazing to see how well kids progressed in such a short amount of time. It was clear they had fun and that was our primary goal with this clinic, especially during such a challenging time."
Over the course of the two-week session, juniors participated in 45-minute clinics where they rotated through putting, chipping, full swing and fitness stations in small groups. Through the clinic setup, kids were able to stay socially distant for the duration of their time at the course.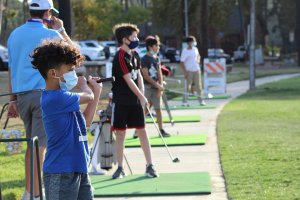 "For me, it's all about the kids participating while staying safe," said Mina Chawla, Samaira's mother who also had an older daughter participate in the clinics. "We're trying not to go out as often, but here you have to wear face masks and the kids are spread out and since they all have their own equipment they don't have to share or touch the same stuff as the other kids."
Not only were the participants able to use their equipment for the duration of the clinics, but they are able to keep them, continue bringing them to future SCGA Junior events and even practice at home. Several families mentioned kids were using their equipment at home to practice in their free time.
Though this was her daughters' first time swinging a club, Chawla said they would definitely be back.
"As long as my kids are having fun, it's a win," she said.
Health and safety continue to be a number one priority for SCGA Junior. The importance of opportunities for kids to get out and play cannot be overstated, however, and SCGA Junior is committed to providing safe, fun and affordable opportunities for junior golfers.
"This clinic series was so important because it gave kids an opportunity to be outside, be active and be around other kids who were interested in learning golf or continuing their development in the sport," Stauffer said. "We couldn't be more excited for what the future holds for us here in Riverside."
For more information about SCGA Junior's programming in Riverside and to register for upcoming events, visit us here.