In the coming months, the SCGA Junior Golf Foundation will be bringing its Player & Youth Development program to Riverside. Ahead of the new community launch, SCGA President Fred MacFarlane played a round of golf with longtime SCGA Junior member Shani Waite at the site of future programming, Fairmount Park GC.
What ensued was a conversation with both Shani and her mom, Soroya, about the myriad ways that SCGA Junior has impacted Shani's life on and beyond the course. The following Q&A was conducted by MacFarlane following the round.
Since the round of golf, Shani has committed to play golf at Prairie View A&M University, capping a long journey from junior golf to continuing her playing career at the next level.
A conversation with Soroya Waite:
What has SCGA Junior meant to you and your husband as you sought to involve Shani in the game of golf?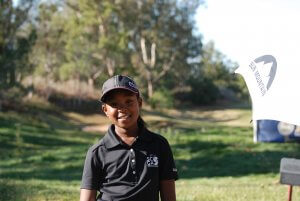 Shani started playing golf at six and a half years old. Coach Teresa Thornton encouraged us to get involved with SCGA Junior when she was eight years old because she believed Shani's passion for the game was building at a rapid pace and it would give her additional opportunities to play. Since then, it has been a beautiful relationship with SCGA Junior. We were instantly excited by SCGA Junior because as she grew to love the game of golf, the program gave her the opportunity to meet so many people during mentor play days, build relationships with their mentors and learn how to public speak effectively. (Note: Mentor play days are special, invitation-only events where juniors play with members at private clubs who mentor them. Juniors are chosen based on golf skill and character.) The outings were always filled with fun and they continually reached out to Shani to participate in special events to represent and speak about the SCGA Junior program.
In your estimation, has SCGA Junior helped Shani grow and mature as a person overall and as a player in the game of golf? If yes, how do you believe SCGA Junior has it been a benefit to Shani?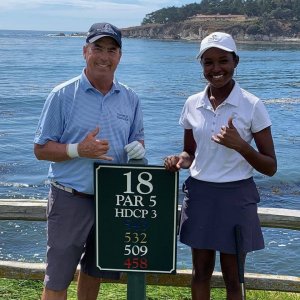 We have not only watched Shani evolve into a remarkable young lady, but also into a great junior golfer. Without SCGA Junior, she would not have had the opportunity to practice at affordable costs and play at multiple golf courses that have supported the program. For almost a decade, we have spent weekend after weekend, evenings and school nights at golf courses practicing short game, pounding balls at the driving range or playing on golf courses in order to prepare for local and national tournaments. Without being able to practice on the courses for a nominal fee, she would not have been prepared to play in the PGA Junior Championship, The Pure Insurance Championship that benefits The First Tee, Future Champions Golf Tour tournaments, SCPGA Junior Tour tournaments, be the MVP and captain of her high school golf team, or even have the offers to play collegiate golf. She would have not had the opportunity to meet Butch Harmon, Luke Donald, Phil Mickelson, or other individuals who have made a huge impact into today's business world. They have not only given her some insight on how they became successful, but also offered advice or stories of how the game of golf played a part in their life. During mentor play days where Shani met so many powerful people, the juniors made short off-the-cuff speeches and Shani became a very well-spoken public speaker. At the inception of the LPGA-USGA Girls Golf of Southeast Los Angeles chapter, she was able to help younger girls play the game and mentor them on middle school and high school challenges that she has learned and overcome while growing into a young woman. It takes a lot of time and money to play golf, and SCGA Junior can help with those costs. In addition, SCGA Junior has given her the opportunity to play at some of the best courses in the Los Angeles area during their play days with the people who support the program. Those courses include The Los Angeles CC, Bel-Air CC, Wilshire CC, Hillcrest CC, Lakeside GC and many others.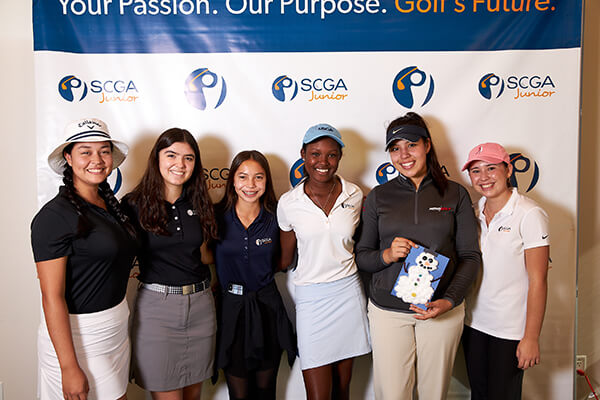 What's your message to other parents whose children may express an interest in the game of golf?
The game of golf is not only filled with fun but it a gives your child life lessons and opportunities. Make it fun as your child develops in their game. Go to a local junior golf tournament to watch other children play the game. Watch the Golf Channel with them and pick up a club to learn lessons with them. Enroll your child in as many golf programs with children who also express the same passion or interest as your child. There are more minorities playing golf than in the past. The places that you and your child will see while playing this game will be memorable. You never know who you will meet on the golf course and most importantly, the game will teach them patience, honesty and how to become a well-rounded individual.
A conversation with Shani Waite:
What are the top three things that you have learned from SCGA Junior that help you on the golf course and in your personal life?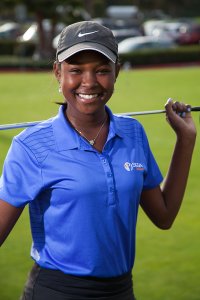 The top three things I have learned from SCGA Junior are patience, being a leader and the ability to feel comfortable in public and private events. Patience comes from the time I was a small child and especially in golf. I was a very impatient girl when I was young in the game of golf. SCGA Junior taught me that even if you hit a bad shot or make a mistake while public speaking, it doesn't matter because everyone makes mistakes. I remember at my first event, I was so nervous because I wanted to perform well around the members at the mentor play day. I hit a very bad shot on the first hole and I was very disappointed and sad. It continued and I ultimately did not score well on the front nine. Mrs. Jennifer Seislove (Operations & Development Director) was at the turn as I went to hole 10 and asked me how I was doing. She knew I was upset with how I was playing. She told me to keep my head up and don't stress. She said, "It is all for fun and have a good time." This was one of my first lessons of patience and to have fun while on the golf course. I have always remembered her words and I am doing a great job with patience on the golf course even at 17 years old! Being a leader is extremely important in today's climate. SCGA Junior has invited me to many outings, given me the opportunity to speak in videos, attend photo shoots and participate in private events. With all of these, I have learned to be a leader with the younger juniors. I am an African American female golfer, which is very rare. I have always received good comments and feedback from young African American girls who have seen me at the outings or SCGA Junior events who I encouraged to stay in the game. It makes me happy because I am seeing more girls like me in golf because of SCGA Junior. Lastly, SCGA Junior has taught me to feel so comfortable with public speaking. At the end of every SCGA Junior outing, Jennifer or Kevin Gigax (Executive Director) will ask what you learned about the member you played with or if you just want to share how you liked the course. After doing many of these outings, I felt more confident and eager to speak at these events. SCGA Junior gave me the frame of mind to be confident and fearless when it comes to speaking. Since then, I have spoken in many events outside of the SCGA Junior, in high school events and in my community events.
What advice would you give to your younger self?
Looking back I would tell my eight-year-old self that golf and life are full of ups and downs. You will have days where you do not have a good round or days where you feel lonely or as if you simply can't do anything right. The right thing to do in any of those situations is to get back up on your feet and figure out what happens so that you can work on getting better. Never settle for anything less than what you deserve. You are talented, beautiful and you have a great personality. Never let anyone make you feel down and do not wait on anyone. The more you wait on people, the more you stall what God's set as your purpose in life. Golf is a game about life lessons no matter how you look at it. You meet amazing people and some that will be in your life forever. Do not burn any bridges, continue to treat people with respect, it's okay to have a big heart, but more importantly never stop learning to become the BEST you can be.
How did SCGA Junior help prepare you for college?
College is right around the corner and approaching very fast, and it's a little scary. However, I know with the help of SCGA Junior I have been prepared for this moment. SCGA Junior has giving me the opportunity to attend many classes, visit colleges and clinics about preparing for college and playing collegiate golf. The SCGA Junior staff has been amazing with helping me and willing to direct me to sources that would help me through the college entrance process. Recently, I sat down with Jennifer to talk about my college choices, my major, scholarship opportunities and playing collegiate golf. She has been extremely helpful as well as Coach Teresa whom I have known since I was six. These two have helped me look at what path I want to take for college and have pointed me in the right direction. The staff are amazing, and the programs, events and clinics have really helped a lot with college decisions, scholarships and career paths. Whether you have been in SCGA Junior for a year or 10 years, it is important to stay with it because without these events and resources, I wouldn't have that knowledge or insight. I am able to ask for help if needed and I am able to go to college knowing what I want to do, how to budget and how to manage my time. Thank you SCGA Junior!