Player & Youth Development Virtual Programming
Virtual programming is designed to create an online community for engagement, learning golf content to allow our juniors to continue on their golf journey and to connect with our community.
WHEN: 
Chipping: 3/22 – 4/5
Full Swing: 6/1 – 6/14
Yardages & Distance Control: 6/21 – 7/3
Mental Game: 8/23 – 9/5
Course Management: 11/8 – 11/22
COST: $40
$5 optional on course play
Benefits of going virtual
Weekly activities that are self paced.
Instruction time with a certified golf instructor.
Activities on full swing, putting, chipping, fitness, rules, etiquette, course management and more.
Golf access to nearby facilities and discount on upgrade to full access SCGA Junior Golf Pass.
Ability to practice and continue learning in a safe, healthy and supportive environment.
SCGA Junior Virtual Programming
High School
9th-12th Grade
Step 1: Register for a class above that is nearest you and fits the age requirement for your junior.
Step 2: A few days prior to the start of the session, you will be notified via email with a student code to login to Seesaw (the online platform that houses our virtual programming).
Step 3: Login and register you junior on Seesaw prior to the start of the session.
Step 4: Once the session begins, students will interact with classmates and coaches, review and submit their activities through the Seesaw platform. Activities, fitness routines, pro-social development and much more.
Seesaw is a platform for student engagement. Teachers can empower students to create, reflect, share, and collaborate. Students "show what they know" using photos, videos, drawings, text, PDFs, and links. It's simple to get student work in one place and share with families, and nothing is shared without teacher approval.
How does my junior use Seesaw?
If you're using Seesaw for the first time

Go to the Seesaw app
Choose "I'm a Student"
After registering for our virtual class we will provide you with a special class code
Finish creating your account using your school Google account or email address

If you've used Seesaw before and have an account

Go to the Seesaw app
Choose "I'm a Student"
Sign in using your school Google account or email address
Click on your profile icon on the top left
Click on the +Join Class button
After registering for our virtual class we will provide you with a special class code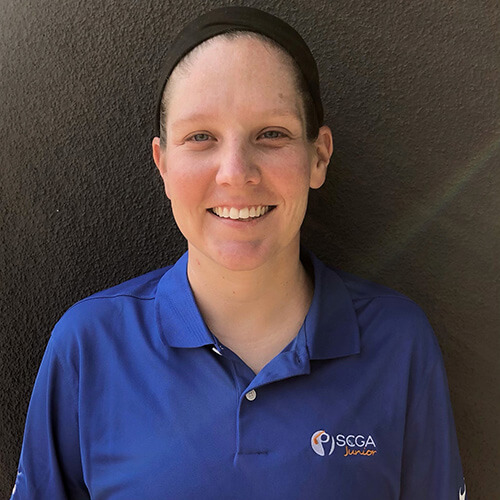 Julie Trace
Program Coordinator / Golf Instructor
Q: When do classes meet?
A: Classes will meet virtually during the first week of the session for orientation and will continue to meet bi-weekly, as a group, for the remainder of the session. There will be group meetings where the entire class is present, and juniors will also be able to schedule one-on-one virtual check-ins with their instructor and parent.
Q: How does my junior learn?
A: Juniors learn-by-doing through shared golf, fitness and learning activities put together by our certified golf instructors. Activities are assigned to the class through Seesaw and juniors are able to respond to the activity by completing it themselves. This could be submitting a worksheet, uploading a golf video or photo of themselves, sharing their feedback on a specific fitness exercise and more as a part of the assigned activity.
Q: What does my junior need to participate?
A: Juniors will need golf clubs, which can be purchased through our program four weeks prior to the start of the session, internet connection, and a mobile phone/computer/iPad for access to the Seesaw learning platform.
Q: Is my junior safe online?
A: Absolutely. SCGA Junior has adopted the online guidelines provided by the U.S. Center for Safesport (found here) for all staff, coaches, juniors and parents. Please take the time to read through the sections that apply to you and learn how we can cultivate a safe, online–learning environment for our juniors.
Q: Are class activities meant to be done at home?
A: Activities are designed to be done either at home, at the golf course or at a park.
Q: Is there financial assistance available?
A: Yes, it is available. Please click here to learn more and to apply for financial assistance. You will be contacted once your application has been received.
Q: How are classes organized? (Ability, age, etc.)
A: Virtual classes are organized by age and ability level. We offer classes for juniors ages 8-11, 12+ and High School. We also offer classes based on golf level for juniors who are at least a level 4 golfer in our program. Learn more about our level system here.
Q: How many juniors are in each class?
A: Each class has a maximum number of 18 juniors per class.
Q: Can my junior purchase clubs to participate if they do not have their own?
A: Yes, we provide virtual club fittings four weeks prior to the start of the session. This allows juniors to receive their clubs in time for the start of the session. 
Q: How much virtual interaction will my junior have with the instructor or coach?
A: Juniors will receive weekly interaction with their instructor and coaches via in-person Zoom meetings and through the Seesaw application via comments and feedback. In-person meetings will be held bi-weekly with the entire class and juniors also have the opportunity to schedule one-on-one meetings with their instructor and parent.
Q: Will there be any in-person meetings at the golf course or practice facility?
A: Currently, in-person meetings are not scheduled to be a part of our virtual program. However, it is highly encouraged that juniors utilize the golf course, practice areas and parks on their own time to complete class assignments and activities outside.
Q: How long is each session?
A: Each session is six weeks in length.
Q: Is virtual programming suitable for first time golf participants?
A: Juniors of all ages and ability levels are encouraged to join our virtual programming session-first time participants included! Juniors will need access to golf clubs, and if you do not have your own, they can be purchased directly through our program.