In the Spotlight
SCGA Youth on Course is pleased to share stories of its junior golfers, from small improvements to great feats both on and off the golf course. Please enjoy these bi-monthly features about how SCGA Youth on Course juniors are succeeding.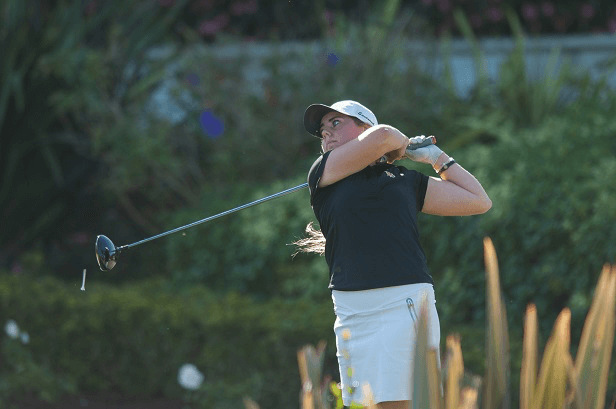 It's all about perseverance for 19-year-old Savannah Knox. The San Diego native has gone through knee injuries and financial hardships, but has found her way to the top with the help of SCGA Youth on Course and the game of golf.
"Whatever life throws at you, you can always make something positive happen," said Knox. "I've always put the tough situations behind me and moved forward, knowing I'd succeed one day."
It all started at the age of 7, when Knox's grandfather took her to a local driving range. She was later enrolled into ProKids, now known as ProKids | The First Tee of San Diego, and was later introduced to SCGA Youth on Course during its inception year in 2008.
"SCGA Youth on Course provided me so many opportunities both on and off the course," said Knox. "I've learned the most during outings where I'm paired up with business professionals. Many explained the importance of working hard academically through their own stories of failure and success."
As part of its club program, SCGA Youth on Course often takes participating juniors to Southern California private clubs for a day of golf and mentoring. Kids like Knox are paired with passionate golfers, who are able to share their life experiences.
And Knox has had a fair share of her own life experiences for someone so young. A knee injury, which led to reconstructive surgery her sophomore year of high school, didn't stop Knox though from pursuing the sport she loves. She fought back her final two years of high school, finally being able to compete again her senior year. That same year Knox signed her letter of intent to play at California State University, Long Beach, and received a scholarship through SCGA Youth on Course.
"Being an SCGA Youth on Course Scholar means so much to me," said Knox. "I'm now able to share my experiences with other SCGA Youth on Course members when attending clinics and educational outings and give back to the program that gave me so much."
The SCGA Youth on Course Scholarship program, which began in 2010, is designed to help youth continue their education in college or vocational school. The recipients are role models in their community, hard workers at school and have grown in character through their experiences with golf. This year, SCGA Youth on Course will provide $136,000 to 37 students for tuition, room and board and educational supplies.
As a redshirted freshman on the Long Beach State women's golf team, Knox has excelled in her first year of collegiate golf.
"It was a huge advantage to gain that extra time for additional rehab and prepare for competition," said Knox of redshirting. "I was able to focus on the basics and train harder in order to be completely ready for my first season."
That focus and dedication was present all season and Knox was named the Big West Conference freshman of the year, the first 49er to earn the honor since 2009. Her best finish was at the Long Beach-hosted Gold Rush, where Knox placed fourth and helped her team defend its title.
A junior academically, she focused on her studies while maintaining a tough training regimen both in and out of season. Savannah will complete her undergraduate degree early and is looking forward to continuing her graduate studies at Long Beach State while playing on the women's golf team. She also works part-time at a local Roger Dunn Golf Shop.
"We train three days a week, play the other two and have to manage school, work and anything else in-between. It was difficult to adjust to the schedule at first, but the more I have scheduled, the better I focus on everything. And focus is definitely something that golf and SCGA Youth on Course teaches you."
Past Spotlights
No Results Found
The page you requested could not be found. Try refining your search, or use the navigation above to locate the post.