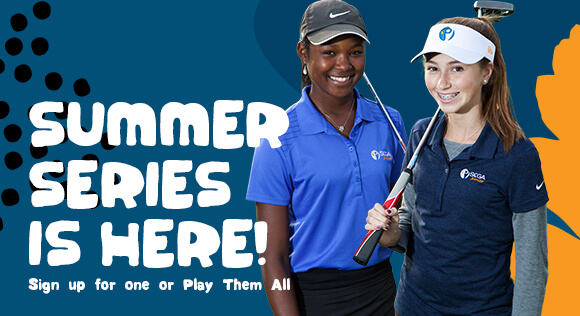 2019 Summer Series
The 2019 Summer Series is here! Four different courses in four different weeks in four different regions. Fit for all ages, juniors will play 9-holes of golf and will be grouped with players of similar age and ability level.
Los Angeles
Tuesday, July 9: Woodley Lakes
Tuesday, July 16: Hansen Dam
Tuesday, July 23: Harbor Park
Tuesday, July 30: Roosevelt
Inland Empire*
Monday, July 8th: Arrowhead CC
Monday, July 15th: Oak Valley

Monday, July 22nd: Jurupa Hills
Monday, July 29th: General Old
*Inland Empire Summer Series is reserved for golfers who are 13 years of age and older or those with an established handicap index of 20 or lower.
San Diego
Thursday, July 11: St. Mark Executive
Thursday, July 18: Lomas Santa Fe

Thursday, July 25: Rancho Carlsbad
Thursday, August 1: The Loma Club
Orange County
Wednesday, July 10: Casta Del Sol (SOLD OUT)
Wednesday, July 17: Lake Forest (SOLD OUT)

Wednesday, July 24: Brea Creek (SOLD OUT)
Wednesday, July 31: Newport Beach (SOLD OUT)
Child Safety Policy and Procedures
Thank you for being involved with and supporting SCGA Junior. As we continue to evolve and serve more kids in Southern California, child safety remains a top priority.  To that point, we have recently adopted new child safety policies and procedures to ensure the well-being of our participants and to clearly outline our expectations for creating a positive environment for all.  These policies and procedures will be continually shared with everyone involved with SCGA Junior including parents, staff and volunteers to cultivate that environment.